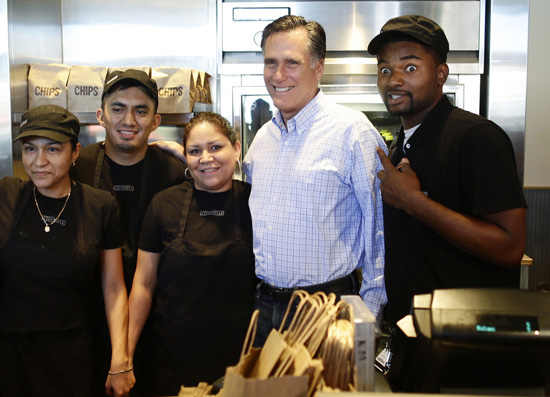 Is Mitt Romney still out here trying to score points with the Latino community? After his horribly obnoxious brownface stunt with Univision went nowhere, it appears that ol' Mitty is still trying to make some amigos out of the Latino community.
Mittito paid a visit to a Chipotle restaurant in Denver, according to Mediaite, while he took a break from debate prep. No word on what he chowed down on at the restaurant, but he probably loaded up on pinto beans, cause you know he likes to keep himself full of hot air.
Somehow, the poor staff at Chipotle were roped into taking a forced photo with the Republican presidential candidate. As you can see in the photo above, Maria Consuela over to the far left was not here for Romney's half-baked immigration policy. The black dude to the right was too busy making faces for World Star Hip Hop.
No votes were won here, but Mitt Romney can at least now show photographic evidence of some time well spent with brown people.
Vaya con dios, Mitt!
Be the first to receive breaking news alerts and more stories like this by subscribing to our mailing list.