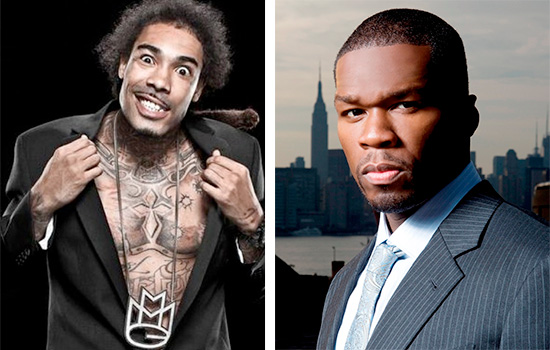 Rick Ross protege Gunplay — a rapper from Ross' Maybach Music Group collective — says he wants to "kill" everyone in the G-Unit crew, including, and especially, their leader 50 Cent.
Gunplay called in to TMZ Live earlier this week to talk about the madness at this year's BET Hip-Hop Awards in Atlanta, where multiple fighting incidents broke out backstage and outside in the parking lot.
He said he "had to fight off [at least] five dudes" who believes were part of 50's crew, and things got violent because "I never liked them and always wanted to kick his ass … and I finally got the opportunity."
Many reports stated that 50 Cent had no involvement with the parking lot brawl, however Gunplay paints a different picture, saying that the G-Unit head honcho WAS involved in the altertaction, but was "hiding behind security." Gunplay said he was trying to "break his his f*ckin neck."
The MMG rapper said he did manage to get a couple of licks in on one of the guy's in 50's crew — "I kicked one of their fat-asses … kicked them off in the dirt" — before cops rushed him and sprayed him with mase.
Gunplay made it a point to note that his fight had nothing to do with the overblown shoving match Rick Ross's crew had with Young Jeezy's crew backstage, but still, "We just goin' at it with everybody … let's go kill 'em all."
He continued, "If you're playin' with me, you're playin' with fire … might get gunned down, ya never know."
Gunplay also spoke with Power 105's "Breakfast Club" Monday morning (Oct 1) to talk about the BET Hip-Hop Awards drama:
First of all, I'm not going to say the donkey's name [referring to 50] because I'm not going to ruin a career already ruined. We are gonna call him donkey because he's the donkey of the day.

The donkey walks over with 8 other donkeys. I was about to go catch my ride and police told me I couldn't leave the trailers. I turn around and see the donkey with 8 more donkeys and it was either me jump the barriers and run, or stand, pull up my pants and knuckle it out with the donkeys.

So he walks up to me with about 8 donkeys, he nods to one of the donkeys to set it off and we rumbled. I stood up in the paint like a real G  is suppose to with five bodyguards that is trained to kill a human with one finger.

I kinda lost my footing and I got back up. It was rumbling, rumbling and then the pepper spray came.

…That man had security with him. I was by myself like I'm usually am. The police wouldn't let me out of the trailer park little area [because of the incident with Jeezy and Rick Ross]. I ended up in handcuffs.

Listen, ain't nobody touching MMG man. Ain't nobody touching me. My face is fine. N-ccas is donkeys and as you can see, the last wildebeest in the pack of buffalo, I latched on to him and let him know. If this had happened in Miami, everyone would have been laid out.
Gunplay says prior to this incident, he had no problems with 50 Cent and his G-Unit crew.
Be the first to receive breaking news alerts and more stories like this by subscribing to our mailing list.