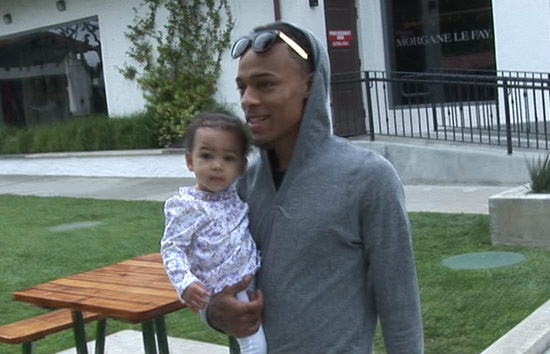 Bow Wow has reportedly agreed to pay his baby mama Joie Chavis $3,000 a month to support their 1-year-old daughter Shai … but the rapper says he only makes $4,000 a month. (Huh?)
According to TMZ:
Bow Wow told the judge … he makes $4,000 a month working as an employee at Cash Money Records, and that's it. He testified he leases a Jeep and has a grand total of $1,500 in his checking account.
Wait, so Bow Wow only makes $4K a month, and at best, can keep about a stack in his bank account? So how can he afford to pay $3K a month in child support?
The answer's pretty simple. At the end of the court hearing, Bow Wow, along with three other people, was named host of BET's "106 & Park," which Bow Wow made no mention of in court.
But Bow Wow will have some serious splainin' to do this December when the court rules on a permanent child support order. In the meantime, Bow Wow (real name: Shad Moss) was ordered to pay over $11K in back child support … in addition to the monthly $3K/mo payments.
The real question is … how long has Bow Wow been living off of $4,000 a month?!? Looks like that 106 & Park gig came right on time!
Be the first to receive breaking news alerts and more stories like this by subscribing to our mailing list.