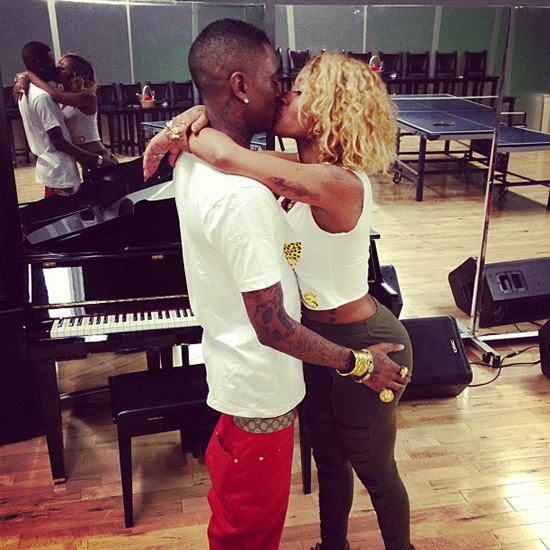 Sh*t just got really real. Lil' Scrappy threw down with Stevie J in the bushes for allegedly disrespecting his baby mama Erica Dixon but how's he gonna act when his ex-girlfriend Diamond and her boyfriend Soulja Boy join the cast?
Heck, who's gonna hold back Momma Dee? Cause you know Momma Dee wants to eat that bitch's blonde wig for lunch for the dirty way she did her son, the Prince of the South.
Yes, the rumors appear to be true: Soulja Boy and his rap mistress, Diamond, are set to joint the cast of the hit VH1 reality show, according to reports from Straight from the A and Uptown magazine.
Soulja Boy has reportedly confirmed he and girlfriend Diamond are joining the cast of the VH1 hit series "Love And Hip Hop: Atlanta." The two new cast members are sure to bring tension to the already drama-filled show. Up-and-coming southern rapper Diamond is the ex-girlfriend of Lil' Scrappy.

The trailing storyline from Season 1, according to Erica Dixon–Scrappy's new fiance, Scrappy dumped Erica for Diamond. Not long after, Diamond left Scrappy for Soulja Boy. Scrappy later went crawling back to Erica. (Are you keeping up?) The two are now engaged, with Scrappy popping the long-awaited question to Erica at the "Love And Hip-Hop: Atlanta" reunion early this month.

Filming for the new season is expected to begin in October. Surely, this is more than enough slow-churning southern drama for any "Love And Hip-Hop" fan to look forward to.
This is gonna be must-see TV. We hope that Lil' Scrappy shifts Soulja Boy's arched eyebrows and rattles his ribcage.
Just make sure Scrap has his asthma medicine on standby before he throws bows. Y'all know how easily winded he is.
Be the first to receive breaking news alerts and more stories like this by subscribing to our mailing list.