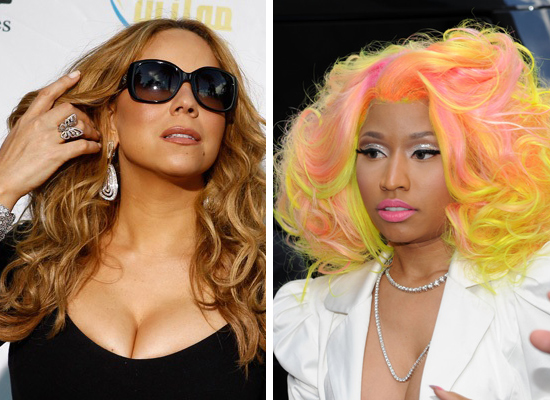 We didn't want to believe all of the gossip and rumors that said Nicki Minaj and Mariah Carey were feuding on the set of "American Idol" but unfortunately, it looks like the gossip hounds had those noses in the right place.
It's just disappointing to see two women unable to get along, especially two women who initially started out as allies.
The two teamed up for Mariah's single "Up Out My Face" earlier on in Nicki's career — a fact that Nicki pointed out in interviews when journalists asked her about her rumored beef with Mariah.
Unfortunately, it looks like Lil' Kim was right about Nicki, cause she just can't respect her elders or pay homage properly.
TMZ scored explosive footage of Mariah Carey and Nicki Minaj squaring off while all four "Idol" judges are sitting at the table.
Watch the explosive footage of Nicki Minaj going off on Mariah Carey below:

The fight, apparently, was over a contestant and Nicki felt that Mariah was talking down to her.
Here's a transcript from the back and forth between the two:
Nicki: "I'm not gonna take it back, and if you've got a fucking problem, handle it. I told them I'm not fucking putting up with your fucking highness over there."

Mariah "Oh Why, why, why do I have a three year old sitting around me?"

Nicki: "I'm not sitting here for 20 million, having her look down here reprimanding me everyday. No."

Mariah: "I can't see my kids because you decided to act like a little crazy bitch and go all around the stage."

Nicki: "Go see them now, go. You're boring as fuck."
SMH Did it have to come to this, ladies?
Then again, "Idol" producers knew this was coming. You can't put two divas on one talent show. There's room for only one big wig on the set at a time.
Be the first to receive breaking news alerts and more stories like this by subscribing to our mailing list.