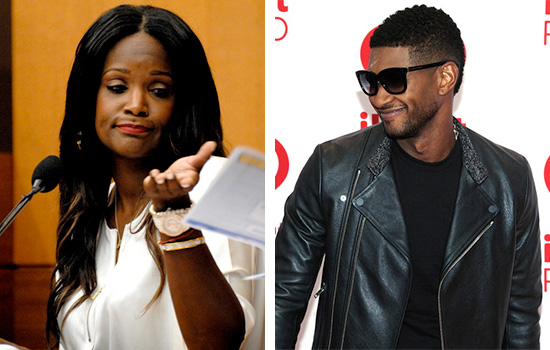 To the left, to the left…
Here goes round 35 of the bout between Usher Raymond and his ex-wife Tameka Foster Raymond. According to sources who continue to blab things to TMZ, Usher has asked his lawyer to have his ex-wife Tameka vacate the premises of his mansion in Georgia.
He apparently is intent on selling the property and needs Meek Meek to carry on and carry out of the domicile. He no doubt feels more inclined to kick Tameka out now that he has won primary custody of the boys.
Here's the lowdown on what sources are saying to TMZ:
Sources close to the couple tell TMZ, Usher's lawyer sent Tameka Raymond a letter informing her the 12,000 sq. ft. Georgia home — which Usher owns — is going on the market and she needs to find new digs.

Usher has allowed Tameka to live in the home for the last few years — but per their 2009 divorce agreement, Usher has the right to sell the pad at any time as long as he gives 60 days notice.

According to sources, Tameka didn't take the news well, seeing as she has no income of her own and has been financially dependent on Usher since the divorce.

On the flip side, we're told Usher feels he's given Tameka plenty of time to get her act together … and enough is enough.
But hold up, wait a minute. Tameka is sitting easy and breezy and feeling as cool as a cucumber, contrary to TMZ's report.
She let one fan know that the gossip site has its facts all wrong and that they've been reporting she'd be kicked out for 2 years now. And so far, their premonitions have not come to fruition.
@iteachoneofu @tmz They have "reported" this for 2 years now… Slow news day I assume. Pay it no mind.

— Tameka J Raymond (@TamekaRaymond) September 30, 2012
So don't call the U-Haul truck just yet. Tameka might be staying right where she is. For now.
Be the first to receive breaking news alerts and more stories like this by subscribing to our mailing list.