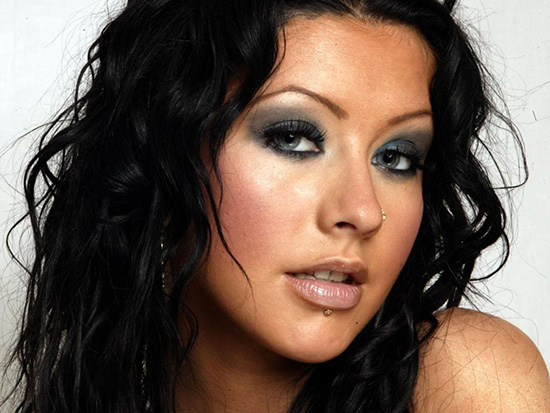 When revolutionaries want to make a statement, they've sometimes turned to hunger strikes to make their point. When Christina Aguilera wanted to prove to her record label and the world that she wasn't just some "skinny white girl," she slathered herself in fake tanner and stocked up on chalupas, tacos and whatever else was on the late night menu at Taco Bell in a bid to reclaim her Latina heritage.
Or at least that's the story she told Billboard magazine.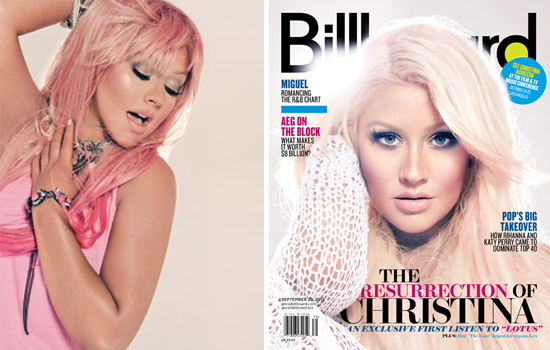 In her cover story with the music magazine, Christina recounts how her "ethnic" transformation didn't go over so well with her record label.
During the promotion of my album Stripped, I got tired of being a skinny, white girl. I am Ecuadorian but people felt so safe passing me off as a skinny, blue-eyed white girl. So the next time my label saw me… I was heavier, darker and full of piercings! [laughter] Let me tell you, that wasn't an easy pill for them to swallow. I had gained about 15 pounds during promotion and during my Stripped tour with Justin.

They called this serious emergency meeting about how there was a lot of backlash about my weight… basically they told me I would affect a lot of people if I gained weight. The production, musical directors… people I toured with would ALSO miss out if I gained weight because I would sell no records or tickets for my shows.

I was young, so I lost the weight quickly and was toothpick thin during Back to Basics promos and touring. So I told them during this Lotus recording… 'you are working with a fat girl… know it now and get over it' They need a reminder sometimes that I don't BELONG to them… it's my body. My body can't put anyone in jeopardy of not making money anymore- My body is just not on the table that way anymore. I am 31 my boobs are Max's and my pussy is mine… Sorry.
Just to give you a visual reminder of Christina's tanner, bulkier look, here's a shot of Xtina from her 2003 "Stripped" tour: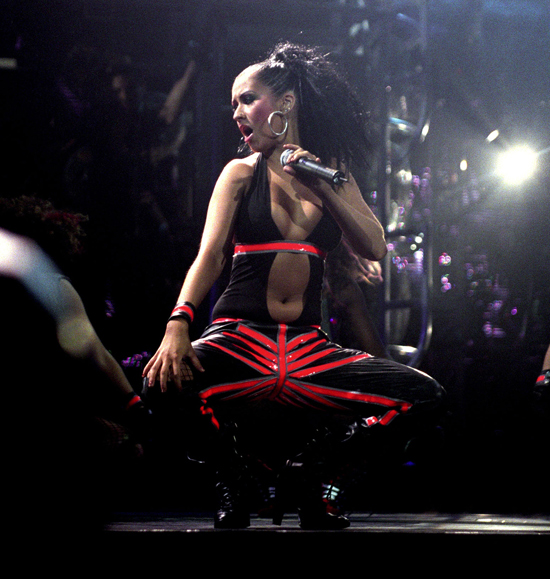 By touting her weight gain and fake tan as badges of her Latina honor, Christina is cementing her title as one of the most racially confused pop stars in history, second perhaps only to Mariah Carey.
Being fat and dark-skinned is not emblematic of the Latina experience. Latino, as has been explained ad nauseum, is not a race, it's a culture.
There are Latinos of all hues and races (white, black, native American and even Asian), so her slathering on fake tanner in 2003 doesn't make her more Ecudaorian. It makes her the prototype for Snooki.
Let's pause for a minute about Christina reminding her record label that her pussy is her's. If that's really how she feels, then why the hell is she always shoving her vagina in the public's face?
She even dedicated the song "Woo Hoo" to nothing but her vagina on her last album Bionic. Even worse, she went onstage at the 2010 MTV Movie Awards and put a light-up heart on her love muffin for a performance of the song.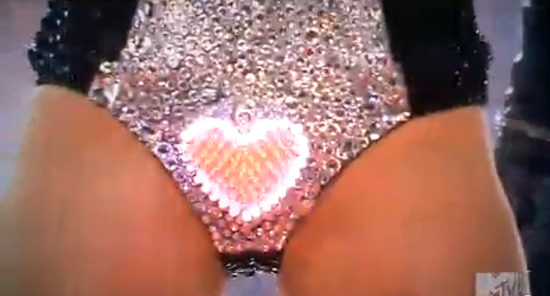 Most people would love to do nothing more than MOVE ON from Christina's vagina. She's the one who insists on dragging the issue out.
So she can point the finger back at herself on that matter, not her record label. But let's go back to the idea Christina raised of fatness and Latinahood being inherently intertwined.
Casually linking an overweight state as a natural byproduct of being Latino is not only insulting, it's moronic. Especially considering the fact that she doesn't even have to reach back to her father's Ecuadorian roots to get in touch with her fat genes, since her white Irish-American mother, Shelly Kearns, is no wispy ballerina herself.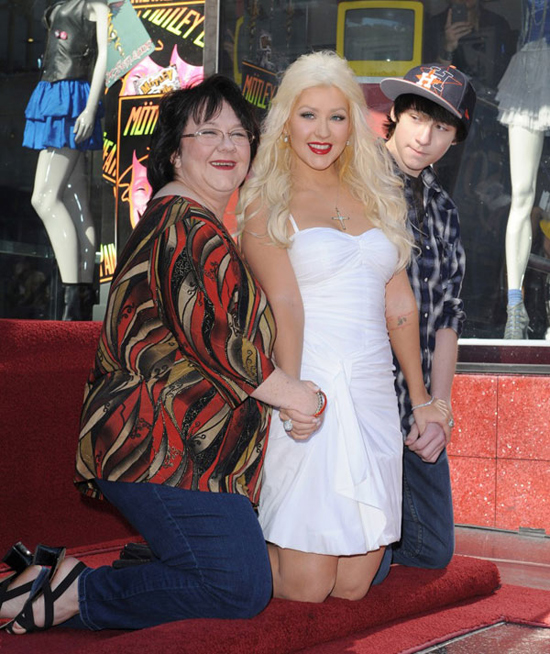 Christina's latest attempt to distance herself from her whiteness is another desperate plea for a "hood pass." She seems to think she'll earn real street cred by dissing her whiteness and embracing her Latinaness. Even worse, it's not the first time she has pulled this stunt.
Back in 2002, Christina blabbed to Rolling Stone that she wasn't really into white boys and preferred ethnic men with "flava." Ladies and gents, have your vomit bags handy for this doozy of a quote:
Christina Aguilera has made a confession sure to disappoint some of her male fans – she'd rather not date white guys. "I want the boys with the 'flava!' He's got to have some flava and edge to him," the pop tart tells the upcoming issue of Rolling Stone.

Christina – who appears topless on the cover of her new album "Stripped" – also blasts actress Jennifer Love Hewitt for her penchant for Caucasian men.

"She wants a bunch of white boys I don't want . . . I would scare the s- – – out of her if she came to one of my sleepovers," she says.
The funny thing is, after talking all that trash, Christina ended up marrying Jordan Bratman, a vanilla, safe, white Jewish man. So she's nothing but big, fat fraud with a big, fat mouth.
Can we stage an intervention for this chick? Her identity crisis is worse than Nicki Minaj's multiple personas.
Be the first to receive breaking news alerts and more stories like this by subscribing to our mailing list.