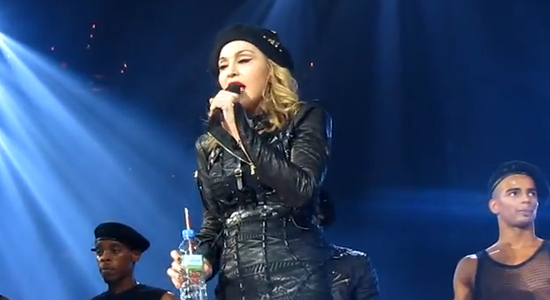 You know what? Maybe we can just chalk up Madonna's stupidity to her age. She is, after all, a woman in her 50s and once you start getting up there in age, your memory really isn't what it used to be.
After all, she clearly meant well at her concert in Washington D.C. when she shouted out Abraham Lincoln, Martin Luther King Jr. and President Obama.
She just…lost herself when she slipped and called him a black Muslim. Or maybe Donald Trump's spirit temporarily possessed her. Whatever makes more sense to you.
Hey, at least she told them to vote, right?
Check out footage of Madonna's Obama faux pas from her DC concert below:
Oh, who are we kidding? This bitch has been crazy. She thought her ass was British and now she thinks Obama's Muslim. She needs to go ahead and book Sarah Palin as her opening acts so they put on a real Dummies 'R' Us show.
Clueless old witch. She needs to stick to bashing Lady Gaga and tarnishing her own legacy and leave our president out of her thirsty stunts.
Be the first to receive breaking news alerts and more stories like this by subscribing to our mailing list.