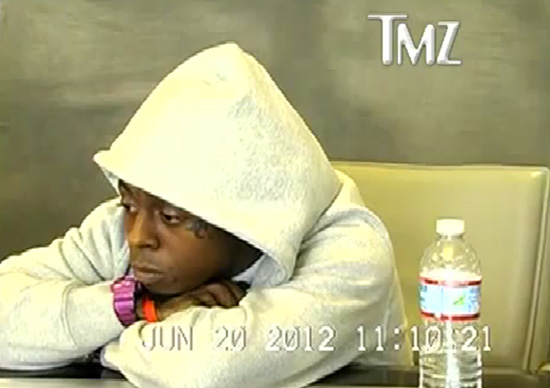 Dear lawyer guy, Lil Wayne is extremely low on fucks to give, and he is NOT here for your silly deposition questions. Thankyouverymuch.
In case you didn't already know, back in 2009, Lil Wayne sued Quincy Jones III (aka "QD3") — son of famous music producer Quincy Jones — over a documentary about him called "Tha Carter" that was released without his permission.
QD3 and his production team reportedly followed Lil Wayne around for months to chronicle his life while he was putting together his album "Tha Carter III." Weezy was on board with the project at first, but things fell apart after the rapper saw the finished product and hated it, calling it a "scandalous portrayal."
Now, Weezy has filed a second lawsuit against QD3 on claims that the film illegally used music from "Tha Carter IV," which brings us to Weezy's HILARIOUS deposition videos.
In video footage leaked by TMZ, Wayne is being interrogated by Jones' powerhouse lawyer Pete Ross, who hammers the rapper about all kinds of stuff, including his criminal record … but Wayne claims he doesn't remember a thing. Or, in his words, "I don't recall."
At one point, Weezy even seems to threaten the lawyer. "You know he can't save you, right? That guy right there. In the real world, he can't save you," Wayne says, pointing to the judge mediating the deposition.
Wayne denied the comment was a threat, and when asked about it later, he claimed to be talking to his "psychic."
Peep the footage below:
Be the first to receive breaking news alerts and more stories like this by subscribing to our mailing list.