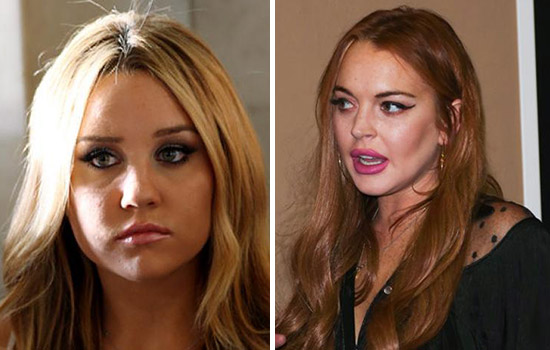 Well, would you look at that. Not too long after Lindsay Lohan used Twitter to express her 'disappointment' with how California police are handling Amanda Bynes and her driving issues … Lindsay was arrested in New York City for her own driving issues.
According to multiple reports, the troubled actress was booked after she allegedly scraped a man's knee with her car outside Manhattan's Dream Downtown hotel, and then left the scene.
Sources told the New York Daily News Lindsay was driving really slow and honking her horn to tell people to get out of the way. But one man, 34-year-old Jose Rodriguez, paid Lindsay no mind, and was was hit in the knee.
Rodriguez, who is a chef, told police he was just leaving work when he "saw this car come real quick and hit me."
"I was in so much pain," he said. "I fell to the side."
But an NYPD source told The Daily News that Rodriguez, who was barely scraped, is overreacting. Video surveillance footage shows Lohan blinking her headlights at people in her path, and Rodriguez walked right in front of her.
"There's contact — slight contact," the source said. "Then he realizes what's happened. He doesn't go down. He takes off after the car."
After the incident, Lindsay and her friends continued on their way into the hotel, while the victim called 911. On her way out of the hotel a few hours later, Lindsay was arrested for leaving the scene of an accident, which is a misdemeanor.
Lindsay was taken to the station, fingerprinted and photographed before being released with a desk appearance ticket, according to TMZ's sources.
The so-called "victim," was taken to the hospital by ambulance, but didn't have any visible injuries.
Meanwhile, Lindsay is telling her friends that she didn't know she had hit someone and committed a "hit and run" until after she came out of the hotel and was immediately arrested.
She also says that the guy's claims are "really fishy" and believes that she's the victim of a setup. But then again, Lindsay always thinks people's claims are fishy, and she's the victim of a setup. That's how it is when you think the whole world is out to get you.
But regardless of whether or not Lindsay did or didn't do anything wrong … the timing of her arrest couldn't be more ironic. Just this past Sunday, Lohan tweeted, in reference to fellow road demon Amanda Bynes: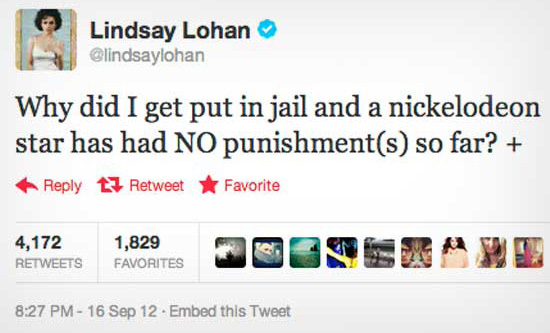 And following Lindsay's arrest just a few days later, Amanda told her friends that Lohan got what she deserved.
But we've gotta ask…
Between Amanda Bynes and Lindsay Lohan, who do you think is the bigger trainwreck?
Be the first to receive breaking news alerts and more stories like this by subscribing to our mailing list.