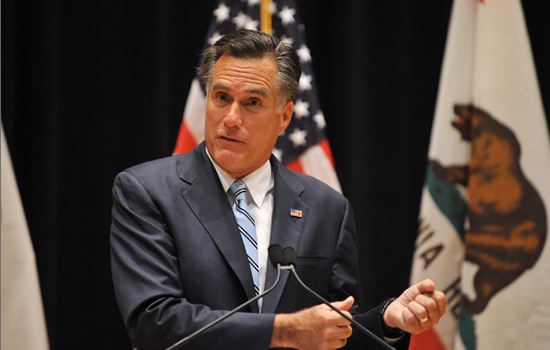 A disturbing video clip leaked by news/politics site Mother Jones Monday night (Sep 17), shows GOP candidate Mitt Romney making several controversial remarks about a number of things, including immigrants, peace in the Middle East and supporters of President Barack Obama, who he called the "47 percent."
In the leaked video footage (see below), Romney — speaking in front of a room full of wealthy donors at a "private" fundraising event — claims that "47 percent of people will vote for [Obama] no matter what" because they "believe that they are entitled to health care, to food, to housing," and that "it would be helpful to be Latino."
Read his full statement below:
There are 47 percent of the people who will vote for the president no matter what. …There are 47 percent who are with him, who are dependent upon government, who believe that they are victims, who believe the government has a responsibility to care for them, who believe that they are entitled to health care, to food, to housing, to you-name-it. That that's an entitlement. And the government should give it to them. And they will vote for this president no matter what… These are people who pay no income tax.
The White House had this to say in response to the video:
"It's shocking that a candidate for President of the United States would go behind closed doors and declare to a group of wealthy donors that half the American people view themselves as 'victims,' entitled to handouts, and are unwilling to take 'personal responsibility' for their lives. It's hard to serve as president for all Americans when you've disdainfully written off half the nation."
As promised (and requested by the Romney campaign), Mother Jones has released the full 49-minute video footage from the fundraiser in two parts. Watch below:
Be the first to receive breaking news alerts and more stories like this by subscribing to our mailing list.