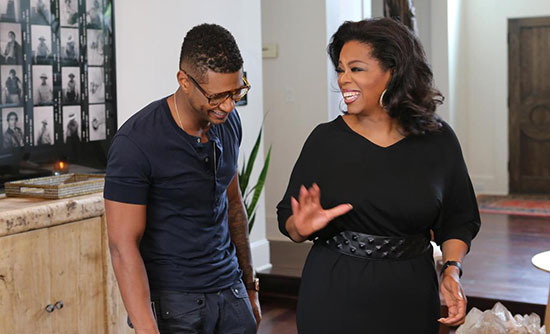 The hour-long interview between Oprah Winfrey and Usher Raymond IV left pretty much no stone unturned. Mama O is on a roll with these interviews, and Usher lets his walls come tumbling on down. Well, for the most part.
When Oprah tried to corner him first on whether he cheated on Tameka, he hemmed and hawed about some nonsense on how he "emotionally" cheated.
Then Oprah pressed him about whether or not he slept with the bridesmaid as Tameka accused. Again, Usher spun like he was playing a game of Twister, and said that the bridesmaid was a longtime friend, but then claimed that their relationship only went sexual after he and Tameka got separated.
If you believe that, then how about we sell you some beachfront property in the Sahara Desert?
But besides those obvious PR cover-ups, Usher told Oprah everything about his failed marriage to Tameka Foster-Raymond. He said that there were plenty of warning signs and he admitted that his family was against the union from the start.
In particular, Usher confirmed the long-standing rumor that his mother Jonetta Patton didn't attend his wedding.
Usher admitted that his mother's absence on his big day wounded him, but his mother sat her big ol' butt right on the couch and without flinching, told Oprah that she didn't regret skipping out on her son's wedding because she simply couldn't stand to watch.
"I've been sad for 8 years… No one wants to see their child suffer," Jonetta said.
Hot damn. It's hard to know if the dissolution of Usher and Tameka's marriage was a case of mama knowing what's best or mama's overbearing ways driving a wedge between a man and his wife.
Oprah also asked Usher and his mother about how they felt about winning primary custody of his two boys, Usher V and Naviyd.
Usher said he felt that the judge made the right call, but Jonetta looked like she was about to do a backflip right then and there.
Guess we can surmise who was really behind Usher's push for primary custody. Grandma wanted access to her babies with less interference from the Wicked Witch Tameka.
Other things Usher cleared up:
He DID attend Kyle Glover's funeral. Despite Tameka's claims that Usher didn't care about her son, Usher teared up when he recalled how he heard about the tragic accident.
He does make love to his own music. Call him narcissistic if you will, but if you made a baby-making song like "Nice & Slow," you'd probably knock some boots to it too.
That awkward moment when he walked off the stage in Berlin wasn't due to a sinus infection like he said, but rather an intense mental breakdown. It was the result of a lot of things (his marriage, child custody and more) crumbling all at once.
We can only wait and hope for Tameka's next move. Cause you know she's not going to let this go unanswered.
Watch Usher's interview below:
[Video: Yardie]
Be the first to receive breaking news alerts and more stories like this by subscribing to our mailing list.