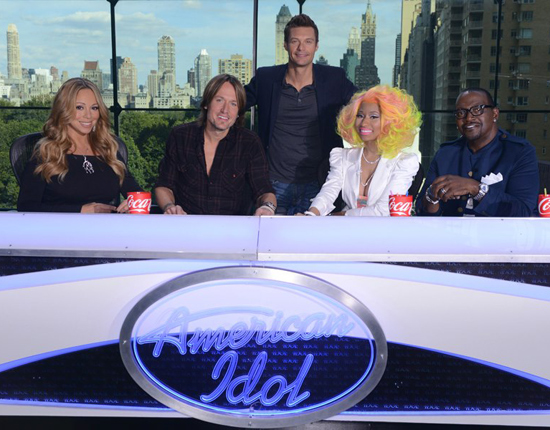 After a whole lot of hemming and hawing over whether anyone besides Mariah Carey would be sitting at the judges table for the next season of "American Idol," it looks like all contractual disputes have been ironed out.
Nicki Minaj is officially a judge on the reality singing competition show that started it all, and she's also joined by country music star Keith Urban.
If the formula for the judges' panel seems familiar to you, it's because they pretty much ripped off of NBC's "The Voice" template.
They have the fat black guy (Cee Lo on "The Voice" and Randy Jackson on "Idol"); the major pop star (Christina Aguilera on "The Voice" and Mariah Carey on "Idol"); and the country legend (Blake Shelton on "The Voice" and Keith Urban on "Idol").
The only difference is that "Idol" opted to balance out its panel with two women to The Voice's one, and they went for a hip hop star (Nicki Minaj) instead of a pop/rock star (Adam Levine).
Guess if you can't beat 'em, join 'em.
The new "Idol" family quickly got to bonding. The whole crew, including Ryan Seacrest, headed out to dinner to break the ice.
Nicki and Mariah are already acquainted, since they worked together on Mariah's single "Up Out My Face." And Randy Jackson is now doing double duty as Mariah's manager, so really, the only stranger in the mix is Keith Urban.
Word on the street is that Nicki is collecting a $12 million payday for a one-year contract with the reality show, according to the AP. That sure is a pretty penny for Young Money's leading lady's time.
Hence why she and Baby are tweeting shout outs about the #RichGang.
S/O my lil sis@NICKIMINAJ.Hardgrind Richgang congrat.on amercan idol.YMCMBusine$$.Global

— BIRDMAN (@BIRDMAN5STAR) September 16, 2012
Whatever her salary is, we know that "Idol" money can definitely buy a whole lot of colored wigs. So stack them papers, Nick.
Be the first to receive breaking news alerts and more stories like this by subscribing to our mailing list.