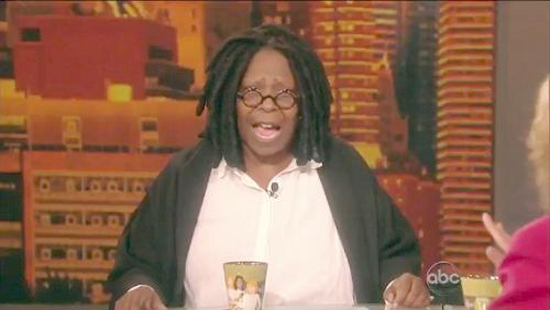 Whoopi Goldberg needs to make her way to a retirement home stat. She's starting to lose control of all of her bodily functions and even worse, she's broadcasting her panty soiling behavior to the world.
During a recent round of hot topics on "The View," Whoopi had to pause and gather herself after a major hot flash episode rocked her world.
The Huffington Post documented the exchange perfectly:
"You know what?" Whoopi said abruptly. "I just had a big ole hot flash."

"Did you?" one of her co-hosts inquired.

"Yes. And my underwear is wet. So I have to go," she declared. "The audience does not have to know that!" Barbara Walters protested.
Watch how it all went down on TV below:
The funny thing is Barbara Walters is older than the periodic table of elements, but even she can keep her urinary tract signed and sealed. Menopause happened about three centuries ago for Barbara Wawa so it ain't nothing but a G thang.
Whoopi on the other hand…let's just hope that The View's production staff had the good sense to burn that chair Whoopi was sitting in.
Don't nobody wanna innocently take a seat and swish around in Whoopi's old lady discharge, and things.
Be the first to receive breaking news alerts and more stories like this by subscribing to our mailing list.