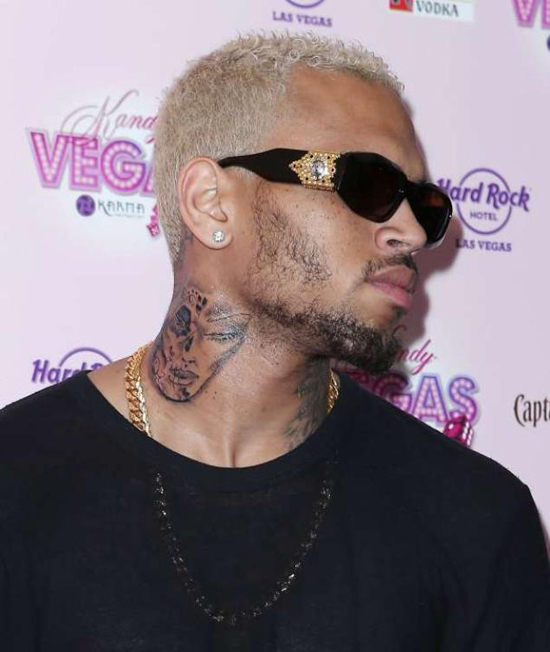 When it comes to Chris Brown and Rihanna, tattoos seem to ignite nothing but controversy for the two friendly exes.
Images made the rounds on the Web of Chris Brown's latest ink: a portrait of a woman who appeared to have half of her face bloodied and bruised.
So of course, everyone leapt to the conclusion that Brown had immortalized the damage he did to Rihanna's face on his neck.
But hold up, wait a minute. Before you get the pitchforks hear this: That's not what the tattoo is of.
Chris Brown's reps explained to TMZ that the tattoo is actually of a Mexican "sugar skull," which is associated with the Mexican holiday Dia de Los Muertos.
So it's actually a portrait of a woman with a half-dead face, hence all of the bruising and wounding.
Here's the official word from his rep:
Chris' rep tells us, "His tattoo is a sugar skull (associated with the Mexican celebration of the Day of the Dead) and a MAC cosmetics design he saw. It is not Rihanna or an abused woman as erroneously reported."
See, it's just Chris getting in touch with authentic Latin American culture. Cual es su problema?
Y'all always trying to think the worst of Chris Breezy. And that's why Mama Joyce is out here losing her damn mind on Twitter over all of this.
ANGELS PLEASE NEVER BELIEVE EVERYTHING YOU HEAR. TAKE A LOOK AROUND AND SEE HOW EVERYONE IS QUICK TO JUDGE, WHEN THEY DONT EVEN KNOW

— Joyce Hawkins (@mombreezy) September 11, 2012
The TRUTH About @chrisbrown's New Tattoo: Apologies to Chris & Rih Anyone? kaykispeaks.com/2012/09/the-tr…

— Joyce Hawkins (@mombreezy) September 11, 2012
I LAUGH AT THEM BECAUSE THEY ARE ALL THE SAME. FOLLOW THE LEADER

— Joyce Hawkins (@mombreezy) September 11, 2012
Y'all better leave that lady's son alone. She don't like the lie-telling on her baby one bit.
Be the first to receive breaking news alerts and more stories like this by subscribing to our mailing list.