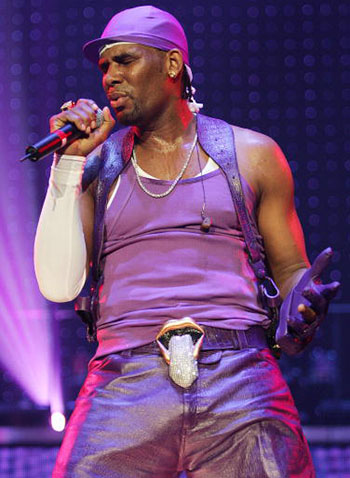 You can't teach an old dog new tricks. And R. Kelly, at 45, is one hell of an old yeller.
But don't think that means he's gonna give up his freaknik ways.
In an interview with the AP, R. Kelly told the media that his next album, the modestly titled "Black Panties", is set to be just as raunchy as his '90s erotic masterpiece, "12 Play."
"The name of my next album is 'Black Panties' — that's my next '12 Play,'" he said, referring to his classic album filled with sexual material. "I'm going to have some fun on it."
Here's the thing: When you're a 20-something R&B Lothario, singing songs about bumpin' and grindin' is alluring in a bad boy kind of way.
When you're in your 40s and 50s moaning and groaning about doing 69 positions and screwing a woman's brain's out, it starts to get a bit creepy in an old, nasty man kind of way.
R. Kelly, you are approaching that old man threshold, sir.
We advise you to step back and keep whatever dignity you have left intact.
As if the return of new "50 Shades of Grey" freak nasty material isn't bad enough, Robert says he's bringing back that bootleg soap opera, "Trapped in the Closet" too.
"Everybody remembers when Chuck was in the hospital, and ever since then, people have been asking me of course, 'What is the package, what is the package?' And that's what these chapters are about, is leading you up into what the package is going to be," he said. "This thing is an alien, it has taken on a life of its own, but I love doing it because it's stories."
You know what's sad? Tyler Perry is probably going to pick "Trapped in the Closet" up at some point and turn it into a TV series.
We can't escape Robert's madness.
Be the first to receive breaking news alerts and more stories like this by subscribing to our mailing list.