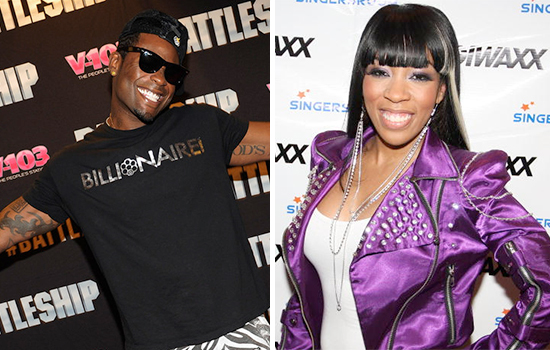 The first season of "Love & Hip Hop Atlanta" has wrapped, and yet, the drama behind the scenes still continues.
Mickey "Memphitz" Wright — ex-boyfriend to R&B songBIRD K Michelle — has announced that he is suing VH1 and the creators of "Love & Hip Hop Atlanta" … on allegations that they allowed cast member K Michelle to fabricate "a compelling story line" and gave her a "worldwide platform" to "assassinate [his] character."
LHHA viewers know their story well. Without using Memphitz' name, throughout the show, K. Michelle repeatedly talked about how her ex boyfriend and former label head spent all of her money, left her for broke, and almost ruined her music career after he "beat her ass."
When the initial episode aired in which K. Michelle first spoke on her domestic abuse allegations, Memphitz — who is now married to BET reality star (and Lil Wayne's ex-wife) Toya Wright — made an attempt to tell his side of the story, explaining how he and K. Michelle met, their "relationship," and how he NEVER put his hands on her in the way that she alleged on the show. (He says he didn't hit her … he only restrained her when she attacked him)
And even though K Michelle never mentioned Memphitz' name on the show, that didn't stop her from hurling direct insults to him and his wife Toya on Twitter and various radio interviews, where she would even go as far as to claim that Memphitz threatened her young son one time.
But now that "Love & Hip Hop Atlanta" has completed its first season, Memphitz has decided to take legal action against Viacom International (VH1's parent company), NFGTC, Inc. and Monami Entertainment — the company owned by LHHA executive producer and creator Mona Scott-Young.
According to the press release (obtained by gossip blog Its Only Entertainment) Wright — represented by attorneys Conti J. Moore, Esq. of Conti Moore Law, PLLC and Alcide L. Honoré, Esq. of Hooper & Honoré, LLC — is "suing the named Defendants for approximately one dollar per viewer per show for damages that stem from the defamatory statements and denigrating actions of cast member Kimberly Michelle Pate p/k/a 'K. Michelle.'"
Moore, whose practice is based in Orlando, Florida, stated, "Ms. Pate has taken full advantage of society's tendency to accept claims of domestic violence as always being true, even in the absence of proof. The only abuse that actually occurred is the malicious and calculated pattern of vicious lies Ms. Pate has assailed for the purpose of fabricating a compelling story line in an attempt to ruin my client's name."
Honoré, an Atlanta based attorney, argues that "even the most ridiculous statements when repeated frequently become true in the minds of many. Ms. Pate's preposterous claims, which include allegations that Mr. Wright mismanaged funds and caused her career to 'flop', have been adopted as truth by many followers of the popular VH-1 reality series."
Honoré and Moore both agree that, "Domestic violence is an issue of serious nature, often having grave consequences for true victims with whom we all sympathize. However, it is unconscionable for one to play on the sympathies of the masses by levying false accusations of such heinous acts against an innocent party, simply for the sake of entertainment or for purported career advancement.
"After reviewing the evidence in this matter, we are prepared to litigate this case to the fullest extent of the law to seek justice for our client and to restore his name and professional reputation."
Wright maintains that the lawsuit has nothing to with getting revenge against K. Michelle. He's simply defending himself and his reputation from the "malicious false and misleading statements" she made about him on the popular VH1 reality show.
He continues, "My family and I have suffered tremendously while VH-1, Monami Ent., and the other companies provided a worldwide platform for K. Michelle to repeatedly assassinate my character. The filing of this suit is to compensate for the irreparable damage that has been done to my reputation and to deter these companies from doing such future harm to others."
Love and Hip Hop Atlanta averages over 3 million viewers an episode … and Memphitz is asking for "$1 per viewer for damages," though it isn't clear whether he's seeking the viewer "average," which would be about $3 – $5 million dollars, or the total amount of viewers, which could end up being in the range of $30 – $50 million, if every episode is taken into account.
[IOE]
Be the first to receive breaking news alerts and more stories like this by subscribing to our mailing list.