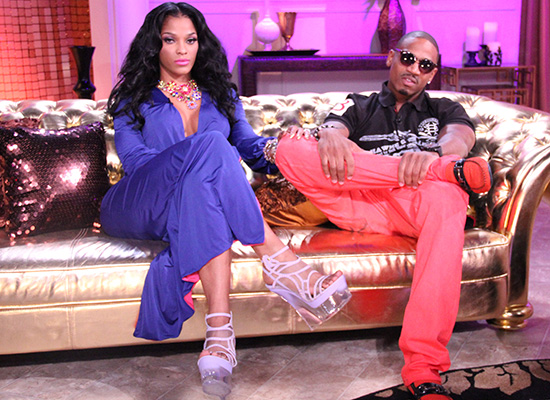 As we wrap things up with the first season of VH1's newest reality TV blockbuster, we have to pause to bow down before the throne of Mona Scott-Young.
No, the "Love & Hip Hop Atlanta" formula isn't original — the show is equal parts "Real Housewives of Atlanta" delusion with some "Flavor of Love" (literally with the Shay casting) ratchetness thrown in for good measure. But Mona has struck gold with this cast of unforgettables.
So here's to you, Queen Mona. Thanks for all the bedraggled weaves, mascara-stained tears and salacious side eyes. You know good drama when you see it.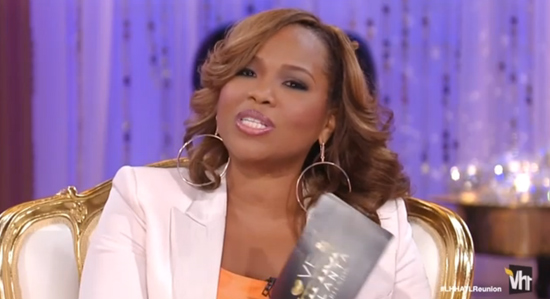 Joseline and her Spanglish gibberish have warmed our hearts and bellies on more than one occasion. And Stevie J's rat faces are making the world safer for rodents all over. He is the de facto rat ambassador to the world now.
WATCH: Love & Hip-Hop Atlanta Reunion Part 2
But back to this reunion special. Part 2 picked up right where part 1 left off with the question of the current state of Joseline and Stevie J's relationship.
The cliffhanger question from part 1 had Mona asking Stevie: Are you and Joseline in a relationship?
The answer: No, but we're still fucking.
Well, Joseline clarified things on the fucking part, but Stevie borrowed from Lil' Scrappy's playbook and said that he and Joseline were friends more than anything. Joseline agreed, but added she still enjoys the ride on Stevie's bus, so she'll be renewing that bus pass for quite some time.
But don't get it twisted, emotions are out of it. Joseline's just here for the the sex and the checks.
For some reason, Mimi was mad for most of this segment. If she's really moving on from Stevie J, why is she so bothered about Joseline and Stevie hooking up?
Mimi is so busy being mad at Joseline, that she couldn't even empathize with Joseline's parental struggles, which left her in tears, after an unaired segment played in which she confronted her mother and father about her messed up childhood.
So while Joseline was letting her walls come tumbling down: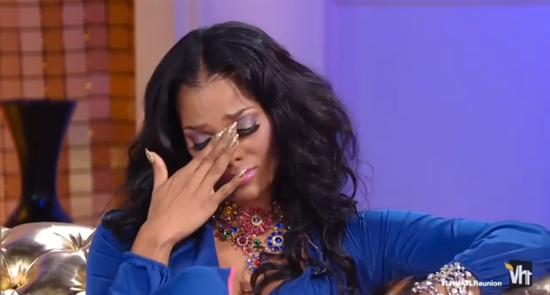 Mimi was busy building hers up even higher: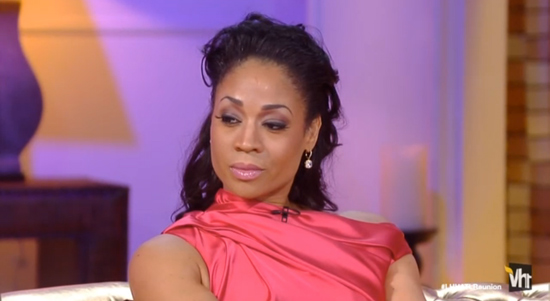 Mona quickly and correctly connected the dots that all three members of this party (Mimi, Stevie and Joseline) have deep-rooted parental issues that are likely feeding this vicious cycle of madness, infidelity and ratchet. But they don't hear her though.
Then, bizarrely, Joseline turned her fangs on Mimi as the two sparred about Stevie J making her hot and Mimi not.
We got mad love for Joseline's Puerto Rican pupusa, but what in the hell is she talking about? "Bailar" hasn't cracked the Billboard Hot 100, last time we checked.
Oh, she's talking about her casting in "Love & Hip-Hop Atlanta"? Well, to be honest, her link with Stevie may have been what brought her in the door, but Joseline paved the way to her own web celebrity with her classic one-liners and novela-style dramatic personality.
In this case, Joseline's right. Mimi is pretty much a wet mop. But after 15 years of Stevie J, you can't blame her for being a sourpuss.
Erica and Shay Clash Over Scrappy Dappy Doo
If Shay, aka Buckey, from "Flavor of Love," thought she pulled one over on Lil' Scrappy's baby mama Erica Dixon, boy did she calculate completely wrong.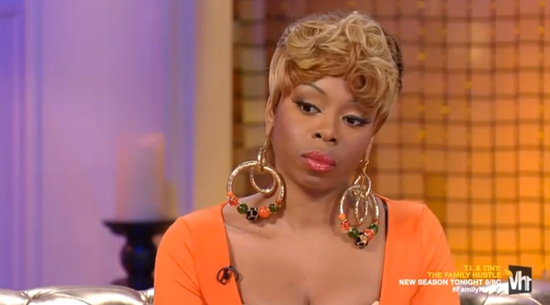 Wearing her "I'm mad as hell" short, blonde wig, Shay meant business from the moment she sat down on the couch. The writing, however, was on the wall from the jump when Scrappy decided to sit next to Erica on the couch, rather than Shay. Shay was left to be bad all by herself.
We're not sure why, but Mona was EXTRA protective in this segment and she kept checking Shay like she was that girl's mama.
Even though Erica started hollering and getting out of pocket with Shay repeatedly, notably when Erica rhetorically asked if Shay knew her place, Mona kept WARNING Shay that her ass would not leave the seat.
"You're gonna stay in your seat, that's what you're gonna do," Mama Mona said in a stern, "don't-play-with-me" voice.
Erica was completely let off the hook. Guess Mona doesn't wanna ruffle one of her star's feathers so she'd rather leash the recurring guest star. That ain't right.
Momma Dee rolled up next and she immediately started yip yapping about her castle, her throne and her title as queen. Look, bitch. We don't care how much Berry Blue Kool-Aid your ass drinks, that doesn't make you a royal blue blood.
But Momma Dee ain't trying to hear that.
For her next trick, she actually crowned her son on national TV, dubbing him the "Prince of the South" for the millionth time.
Scrappy, looking quite embarrassed, said he felt like the kid at school whose mama brings him lunch in front of everybody. Which is an appropriate analogy, because that crown looked Burger King fresh.
The crowning was just the beginning though. Shay clapped back hard at Scrappy and asked him why he lied to her about the nature of his relationship with Erica.
Scrappy didn't have a good answer, but Shay really should've known better. Scrappy can't even take a shit without Momma Dee bending him over to wipe the crust from his asscrack. What made Shay think this mama's boy was ever really worth a damn?
Shay revealed just how far in stupid love she fell: She bought Scrappy some stuff in her name. Aw, hell naw.
Momma Dee didn't want this embarrassing tidbit of information to be revealed, so she tried to silence Shay, but too late. The cat was out of the bag.
And just in case you were wondering, yes, she and Scrappy did have sex. So that "friend" game Scrappy keeps talking is nothing but a hot pile of bullshit.
After Shay stormed off the set, mean girl Erica was smugly smiling in satisfaction. Mona asked Scrap if he had something he wanted to say to his baby mama, and that's when it happened. Scrappy got down on one knee and romantically asked: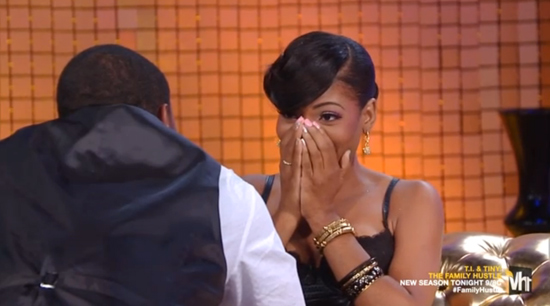 Is you gon' marry a nigga?
Was a more romantic proposal ever uttered? Scrappy Dappy Doo sure knows how to sweet talk a girl.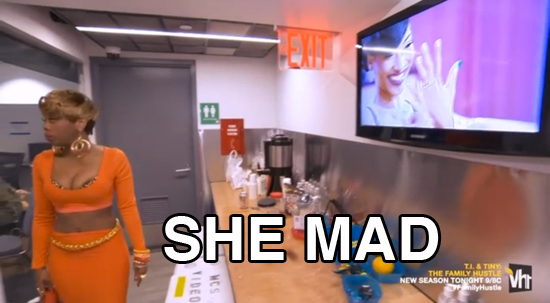 Poor Shay, however, looked like she'd just been punched in the gut as she watched Scrappy propose to Erica backstage.
Even though we weren't really feeling Shay's role on the show, you had to feel for her in that moment. This was perhaps one of the most epic emotional bitch slaps ever dealt on reality TV.
Erica, meanwhile, giddily accepted the proposal and Momma Dee said that if Erica was who Scrappy, her prince, chose to be with, that she'd accept Erica into her palace. Which doesn't really make sense, since the drawbridge had already been lowered for Princess Erica on more than one occasion, but whatever.
Congrats on the engagement and all, but we know Erica's mom is NOT going to be pleased with this news. And watch this be a 10-year engagement. We'll believe it's real when a date is set.
But congrats to the couple anyway. Black love, at least a very twisted form of it, is alive, y'all.
What Matters Most: Love or Career?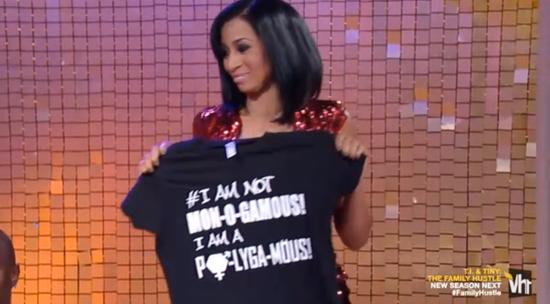 For the last segment of the reunion special, Mona gathered K. Michelle, Benzino, Karlie Redd, Rasheeda and Kirk for a discussion on career vs. love. These characters struggled with finding a balance and ended up with completely different results.
Karlie and Benzino split, with Karlie choosing her career over love. Karlie was pretty unapologetic about putting her career first, and while we're side-eyeing Karlie's delusions over the state of her career, she did poke some holes in the sincerity of Benzino's love for her.
Karlie revealed that after Benzino's stiffed her with that "just-kidding" marriage proposal, that she rolled up to his house to try and work things out.
Unfortunately, by the time she got there that evening, Benzino had already moved a new chick into the house. This apparently naked woman let Karlie know that she was living there now.
So obviously Benzino wasn't serious about making anything official with Karlie if he had another chick on speed dial the whole time.
Karlie tried to have her "oh snap, girl!" moment by making a stupid t-shirt (seen above) that poked fun at Benzino's proclamation of monogamy in episodes before, but it was corny and the joke fell flat, like that one cheek in Karlie's (allegedly) fake booty.
Mona then moved on to Kirk and Rasheeda's battles over love and business. Rasheeda is now completely contrite about the whole thing and when Mona asked her if she felt she chose love over money, Rasheeda agreed saying, "That's what you're supposed to do."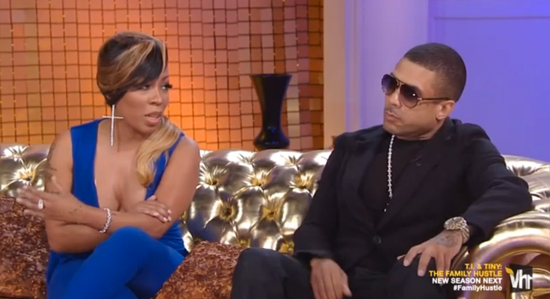 K. Michelle was randomly asked for her advice, and Mona tried to tie it back to her relationship with Memphitz.
The mere mention of that situation sent Rasheeda's eyes rolling right on up to the sky. But K. Michelle kept it classy and said that she thought Rasheeda made the right call because ultimately, love matters above everything.
Look at that, K. Michelle is speaking with reason and sense. Maybe there is hope for this wild and crazy bunch after all.
Be the first to receive breaking news alerts and more stories like this by subscribing to our mailing list.