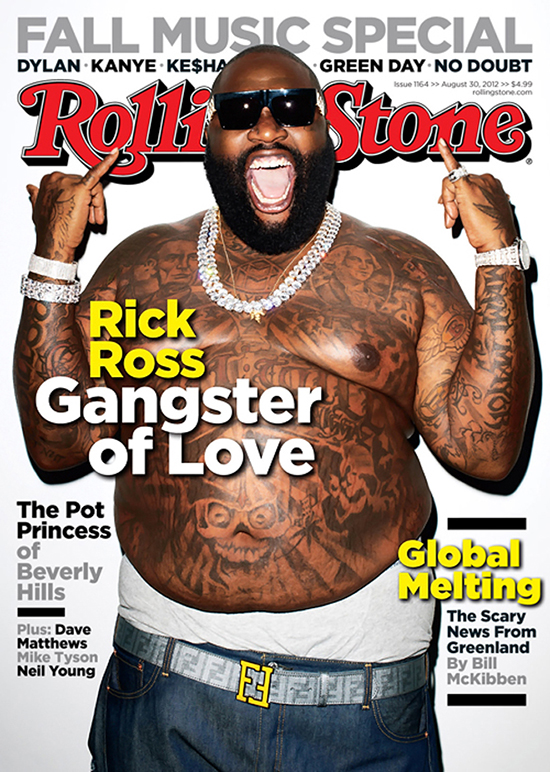 A blinged out Rick Ross shows off his man boobs and an array of belly/chest/arm tattoos on the cover of the August 10th 2012 issue of Rolling Stone Magazine, who has dubbed the MMG head honcho the "Gangster of Love."
Inside, Ricky Rozay — whose latest album "God Forgives I Don't" debuted at #1 on the Billboard 200 chart — talks about his past as a corrections officer, attending a Christian school, and his love for Chick-fil-A and the green stuff (aka weed), among other topics.
Check out the highlights below:
On being an avid weed user — aka a pothead: "I'm most definitely an avid user, a pothead, however you want to look at it. I call it green caviar. It's like a short vacation—it helps me chill out. And people really love it when I chill out, because I can really be a dickhead."

On his past as a corrections officer, which he admits was an opportunity to "wash my hands" after his best friend was sentenced to 10 years for trafficking cocaine and heroin: "This was my best friend, who I ate peanut-butter-and-jelly sandwiches with, and pork and beans with, my buddy, my partner, my number-one dude. Suddenly I'm talking to him over federal phone calls. Hearing the way it was building, I knew I couldn't take nothing for granted," says Ross. "My homey's father was a huge influence on my life, too . . . He was the one who was like, 'Yo, go get a job somewhere, man. Go be a fireman. Or go be a fucking corrections officer. Just go sit down somewhere."

On attending a small Christian school after he was suspended from elementary school for horseplay: "They wanted me to learn the Ten Commandments. I told them I didn't really have time for that right now," recalls Ross, who eventually made his way back to public school and excelled as an offensive lineman in high school football. "I got through high school on my popularity and shit," Ross says. "But my grades was never good. I was never good at math."

On supporting Chick-fil-A: "Chick-fil-A obviously took their stand. That's their right – the same way the pro-gay people are taking their stand. I believe everybody got the right to live their own life the way they want to." [So does that mean he'd support a Chick-fil-A boycott?] "Naw. I love that spicy chicken."

On the Colorado shooting — which he calls a "cowardly act" — and gun control laws: "I think we all have a right to bear arms, whichever amendment that is." [Even assault rifles? He shrugs.] "I got 'em."
For more on the Biggest Bawse that you seen thusfar … pick up the full issue when it drops tomorrow (Fri, Aug 17)!
[RS]
Be the first to receive breaking news alerts and more stories like this by subscribing to our mailing list.