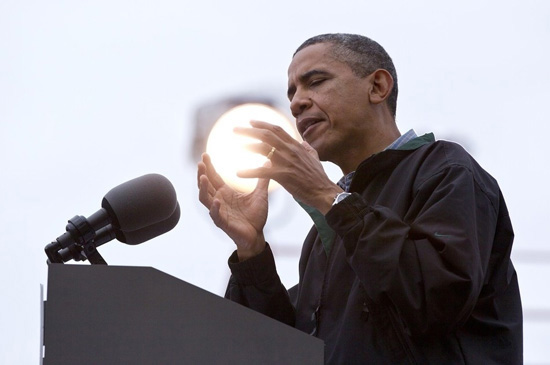 This particular photo — which wasn't Photoshopped or digitally altered in any shape/form — shows President Barack Obama as he flaunts his wizardry skills by whipping out a glowing ball during a recent campaign stop in Iowa.
At least that's what it looks like, right?
But alas … the image, snapped by Associated Press photographer Carolyn Kaster while the Prez was speaking in Iowa's Bayliss Park Monday (Aug 13), is simply the work of perfect timing and a spot on picture-taker.
The photograph actually shows President Obama — dressed in dark clothing that looks like a Wizard's robe at first glance — using his hands to demonstrate something … and that "glowing orb" in between his fingers is merely just an outdoor light post shining behind him.
The AP's original caption:
A light shines behind President Barack Obama as he speaks during a campaign event at Bayliss Park, Monday, Aug. 13, 2012, in Council Bluffs, Iowa, during a three day campaign bus tour through Iowa.
Sorry to burst your bubble, Harry Potter fans … but our president is NOT a Hogwarts alum.
[BF]
Be the first to receive breaking news alerts and more stories like this by subscribing to our mailing list.