Nicki Minaj, it seems, is out to prove a point.
After going toe to toe with Lil' Kim and dissing every rap bitch in the game, some folks in Hip-Hop grumbled that Nicki never gave her fellow femcees enough props.
Well, consider that criticism nullified, since the "Beez in the Trap" rapper decided to team up with Foxy Brown for her free Pepsi concert at the Roseland ballroom in NYC Tuesday night (Aug 14).
The concert was a make-up gig for her Barbz to compensate for her abrupt cancellation from Hot 97's Summer Jam concert. And Foxy wasn't the only guest; Cam'ron, Lil Wayne and Drake popped up too.
Foxy's collaboration with Nicki, however, was the most important because it symbolized something sorely lacking among female artists in hip-hop: unity.
But Foxy and Nicki's team-up isn't completely born of goodwill.
The two know that being seen together will drive their mutual nemesis, Lil' Kim, berserk. And that is exactly what happened last time when the two femcees were originally set to appear together at Summer Jam in June.
Hot damn ho here we go again. Monkey see monkey do. I heard the haters are joining forces against the Queen. LMAO !!!!

— Lil' Kim (@LilKim) June 3, 2012
There hasn't been a peep uttered from Kim's Twitter account after this recent Fox/Nick reunion, but then again Kim seems to have abandoned her fans since she hasn't tweeted for more than 18 days. No wonder people get so frustrated with her.
But back to Nicki and Foxy. Nicki gave Foxy a huge shout out during the show saying that Foxy, above all other female rappers, paved the way for her career the most.
Now, Lil' Kim might be a bitter, disfigured, stank attitude-having broad from the old guard, but Nicki knows damn well that Kim did way more to make room for her than Foxy ever did.
Foxy has always been the Christina Aguilera to Kim's Britney Spears.
Kim was the one who played with costumes and pop-crossover collaborations in the same way that Nicki has. Not Foxy and her brand of traditional street hip-hop.
The only thing Foxy and Nicki really have in common is their Trini heritage.
It's obvious that the point of Nicki's remark was purely about shading Kim, not about stating the truth about her inspirations. Cause she's paid homage to Kim in the past. But Foxy doesn't care, she's just happy to feel relevant again for 5 minutes.
If this Nicki Minaj and Foxy Brown friendship thing is really going to happen, then Nicki needs to stage an intervention with her friend real quick.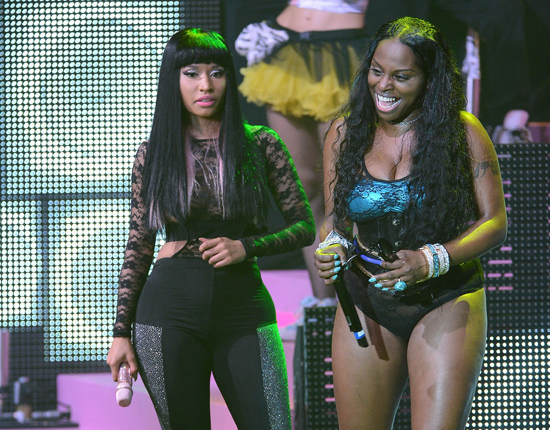 Foxy Brown has no business going pants-less given her current Tasmanian Devil shape.
And why is she onstage in her Victoria's Secret worst in the first place? This is unacceptable and offensive. As is her wet 'n' wavy Trini tracks from 1996.
Can't Nicki let Foxy borrow her hair and make-up team? Dang.
Be the first to receive breaking news alerts and more stories like this by subscribing to our mailing list.