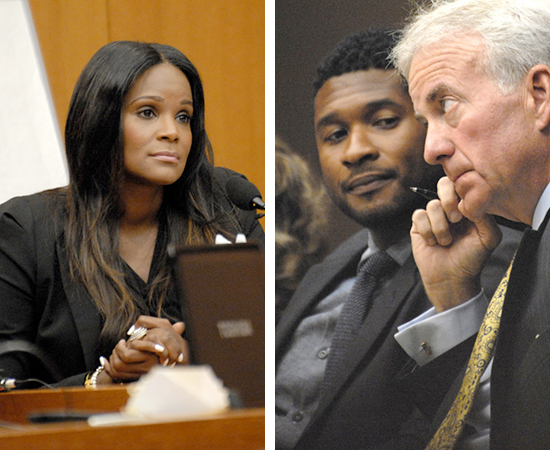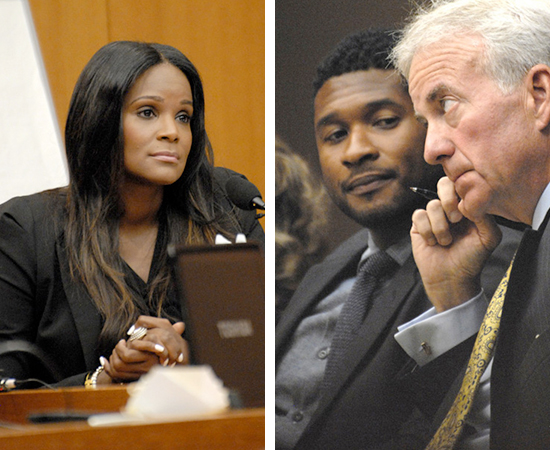 Usher Raymond and his ex wife Tameka returned to Atlanta's Fulton County courthouse Monday (Aug 13), where Usher reportedly took the stand and gave his testimony about how he feels as though his two kids will be better off with him, than with their mother.
Tameka, who is still recovering from the recent death of her 11-year-old son Kile Glover (who was just buried last month), sat quietly while Usher was cross-examined, and talked about his stalker issues and revealed his intentions of taking the boys with him next year during his European tour.
Usher and Tameka currently share joint custody of their 4-year-old son Usher Raymond V and 3-year-old Naviyd under the terms of a "co-parenting agreement," but Usher is seeking FULL custody because he doesn't trust Tameka's parenting skills, for whatever reason.
Our friends over at Straight From the A reported:
Tameka's attorney referenced Usher's worldwide work schedule, which would surely interrupt the singer's parenting time.

The boys would most likely be with Nanny's throughout their time spent with their father, however Usher seems to feel that's better than them being with Tameka, who he says is not producing an itinerary and following their court-ordered agreement.

Usher remained on the stand Monday, speaking in a soft, low tone about how disturbed he was that Tameka wasn't specific about where she was with the kids.

"It's alarming that I never know who was actually on the trip, who was with them, who was caretaking for them," Usher said on the stand on Monday morning. "Was the nanny there, was it a relative or a family member or one of the other children watching the kids? Was it a cousin, or an uncle—I don't know, I never know. I never get any information unfortunately until we're in court."

Usher is attempting to prove that he can provide a more stable environment and safe environment for the two boys, while Tameka is merely trying to maintain joint custody.

As expected, Tameka's attorneys brought up Usher's crazy stalker, Darshelle Jones-Rakestraw, and made him explain just how she managed to get so close to their kids.

Rakestraw made it all the way into Usher's John's Creek home and even took pictures while inside … and Usher explained how it was his grandmother who let Darshelle in, assuming that she may have had an appointment.

His on-site bodyguard escorted her out to the front yard (the first time) and authorities were notified. Darshelle was later arrested after she returned to his residence.
As we previously reported, in light of the death of Tameka's son Kile, Usher had asked the judge to delay the bitter child custody war … but Tameka claims that the singer did NOT care about her dead son, and only pretended to be affected by the tragedy to gain sympathy from his fans and the media.
In his request to delay the hearing, Usher claimed that he was worried that it would cause "unnecessary stress and strain" for himself, Tameka and their two minor children "in the immediate wake of this tragedy."
Usher also reportedly claimed that Tameka would get an "unfair advantage" in the hearing because the court wouldn't want to rule against a woman who is still grieving the death of her 11-year-old son.
Usher believes that the judge will rule in favor of her because she just lose a child, and giving Usher full custody would be like she's losing two more … and somehow Usher thinks that is "unfair" to him.
However, Tameka's lawyers say that Usher is full of it … and his claims of suffering "stress and strain" are utterly and completely "BOGUS."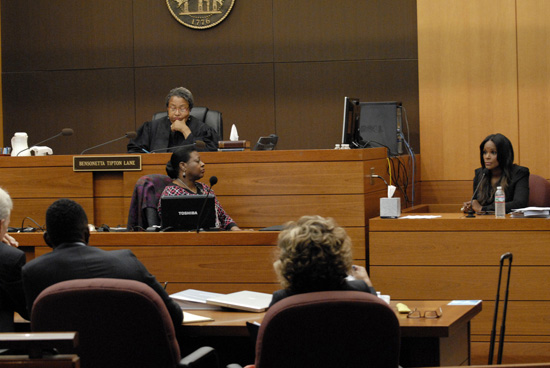 Meanwhile, the custody case is set to continue throughout the entire week, and Sandra Rose reported today that Tameka took the stand "to give explosive testimony about Usher's controlling behavior" … and her testimony was "so moving that the judge was almost brought to tears."
Whose side are you on? Are you "Team Usher" … or "Team Tameka?"
Your thoughts?
Be the first to receive breaking news alerts and more stories like this by subscribing to our mailing list.