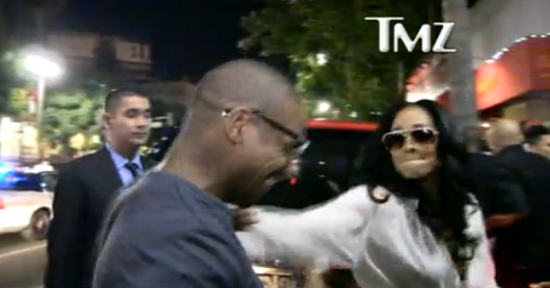 Whatever pipe Stevie J is laying on all these hoes must be worth its weight in gold because even after all of his shenanigans have been aired out and exposed, he still has Mimi Faust and Joseline Hernandez running back for another round.
On episode 8 of "Love & Hip Hop Atlanta", Joseline put her hands on Stevie when Mimi blurted out that she's still living with Stevie at his home. Joseline was so angered by the supposed betrayal that she leapt up and started pounding Stevie's face into a corn tortilla.
Now, it's Mimi's turn.
While out at My Studio, a Hollywood nightclub, Stevie J and Mimi were hounded by the paparazzi. One of the paps asked Stevie who thought would win in a hypothetical fight: A basketball wife or a rapper's wife.
Stevie's response? Mimi and Joseline.
Before Master Splinter could scrunch his face up in his signature rat smirk, Mimi stole him in the chest like her name was Evander Holyfield with a deadly haymaker.
Check out Mimi's flying fists of fury below
It's absolutely mind boggling that Mimi is even upset about her messy love triangle at this point.
She knows that Stevie has been and will continue to sleep with Joseline and she appears to have accepted that arrangement, since she's still dating/hanging out with him.
In fact, shortly before Stevie headed out to L.A. with Mimi, he was seen snuggling up nice and close with Joseline at the Mansion Elan nightclub in ATL. Everybody knows Stevie can't get enough of that enchilada.
Maybe the word "wife" is what drove Mimi over the edge.
Upon hearing the paparazzo ask about a basketball wife and a rapper's wife, Mimi realized that she's actually never been anyone's wife. Just a baby mama and girlfriend. You know, like Fantasia Barrino.
Baby mama Mimi needs to stop tripping and be real with it.
Either accept your position or play a different game. You can't have it both ways, Mimi.
Be the first to receive breaking news alerts and more stories like this by subscribing to our mailing list.