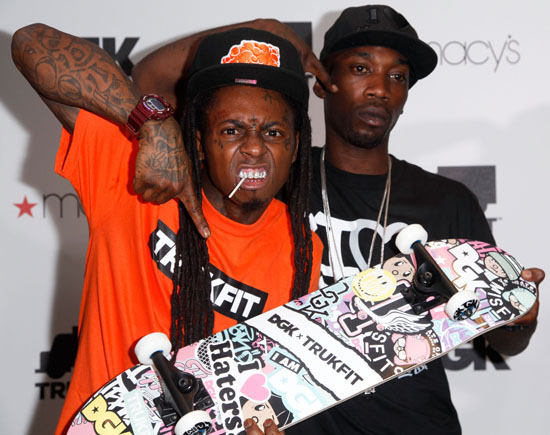 Lil Wayne has revealed that he's taking an extended break from rapping (his first love) so that he can focus on skateboarding (his new love).
Why? Because rap is "boring" — this according to Weezy himself!
The rapper turned skater boy phoned in to DJ Drama's radio show on Atlanta's Hot 107.9 Wednesday, and talked about his new music, and also explained why he's putting his career on the back burner in favor of developing his skill as a skateboarder.
"It's kinda putting rap on the back burner, that's all. Rap's taking a backseat to skating, that's all. I kinda feel like I deserve that, I feel like the fans deserve a little No Wayne.

"I've been everywhere, man. I've been out on everybody's song, I'm still on everybody's song. My artists are doing awesome; I believe the fans deserve some peace from me, so I'll be on my skateboard in the meantime."
Ever since he was a teenager, Lil Wayne has been releasing music rapidly, whether it be solo projects, mixtapes, or albums with his former group the Hot Boys … so you can't really blame the guy if he's tired of rapping, which he's been doing for over two decades now.
"Yeah, it does get pretty boring when it comes to the rapping and that kinda stuff. I've done so much of it … I've been doin' it since I was 8. I'm about to be 30 in September and I'm still rapping'. So I kinda feel like I'm gettin' old."
So how exactly did Lil Wayne get into skateboarding? He explained:
"What happened was I picked up the skateboard and it started being a hobby and what happened is it's a lifestyle. You have to be fully committed because it's super-scary, and in order to be fully committed, you have to live that lifestyle."
Wayne also talked about his upcoming projects, including his "Dedication 4" mixtape with DJ Drama (which will drop in August) and his next studio album "I Am Not a Human Being II," which is currently being led by the single "My Homies Still" (feat. Big Sean) and is said to be dropping later this year, though no release date has been set.
The full interview is below:
Be the first to receive breaking news alerts and more stories like this by subscribing to our mailing list.