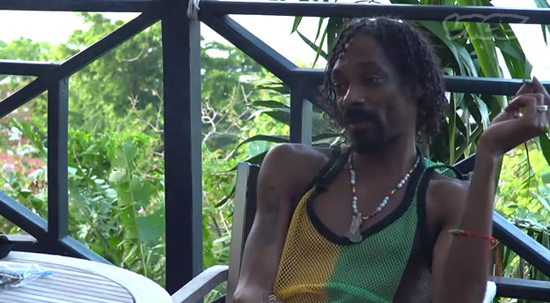 Good-bye, Snoop Dogg. Hello, Snoop Lion!
No, this isn't like Beyonce's alter ego, Sasha Fierce. Snoop Dogg is actually giving up his old gangsta rappin' ways and aiming for a more sedated, peaceful existence.
In the trailer for his documentary "Reincarnated", cameras follow Snoop as he travels to Jamaica to work with Diplo on his new album.
We watch as Snoop is in the studio telling Diplo and his team that he's not interested in rehashing the themes that he used to rap about.
You know, pimps, hos, money, cars and bitches. He emphatically states that he's over all of it and is seeking new ground.
Wait, does that mean he won't be relaxing his hair with Just for Me anymore? Cause we'll miss that.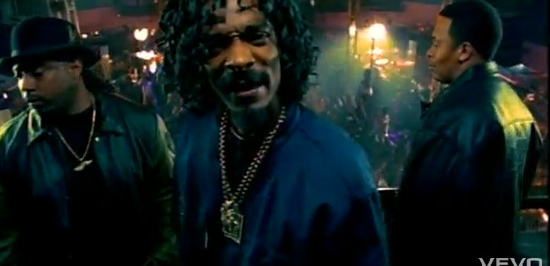 Later in the trailer, we watch as Snoop immerses himself in Jamaican life and converts to Rastafarianism.
Some of the Rastafarian scenes look like voodoo nightmares, but skinny Snoop is smiling the whole time.
As part of his baptism, Snoop is given a new name: Snoop Lion. He receives the blessings of his new Rasta mentors and quickly adopts the new moniker.
"Bless up, Snoop Lion!" one of the Rasta men tells the the veteran West Coast rapper.
"I have always said I was Bob Marley reincarnated," Snoop revealed during a recent news conference at Miss Lily's, a Caribbean restaurant in New York. "I feel I have always been a Rastafari. I just didn't have my third eye open, but it's wide open right now."
You'd be tempted to think that this documentary isn't real life. Perhaps Snoop just puffed so much marijuana that the last bit of his brain cells went up in smoke.
But no, this is ALL real, and the movie is going to be screened at this year's Toronto Film Festival.
Watch the trailer for Snoop's new documentary below:
Guess that means Snoop Dogg won't be a part of Dr. Dre's never-to-be-released Detox album anymore?
It's hard to know what to make of Snoop's change of heart. Our gut tells us that this is just an experiment for Snoop and that he's not permanently discarding his Snoop Dogg brand.
After all, in 2004 he announced that he was giving up marijuana for good. And we all know that didn't happen, so this, like that vow, could just be nothing more than hot air.
If you're actually feeling Snoop's reggae transformation, check out the full version of his new single, "La La La." Snoop may not call it rapping, but it is rhythmic talking with attempts at melody and harmony thrown in.
And all we can say is thank God for that female back-up singer, cause Snoop's vocals without the assistance would sound much uglier.
Be the first to receive breaking news alerts and more stories like this by subscribing to our mailing list.