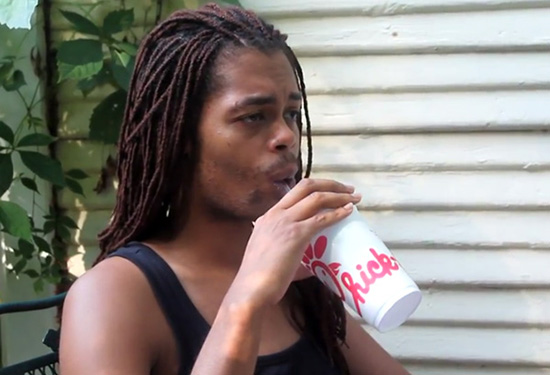 Openly gay Internet personality Antoine Dodson of "Hide Ya Kids, Hide Ya Wife" fame recently released a couple of video on his YouTube channel speaking out against the controversy surrounding Chick-fil-A and the gay community's proposed boycott over the fast food chain's public opposition to same-sex marriages.
In the first video, the "Bed Intruder" singer defiantly states:
"A lot of people from the gay community have been coming to me and telling me that I shouldn't eat from Chick-fil-A, and I'm thinking like, 'Oh my God, that's so crazy. Why?'" Dodson said. "They try to explain it to me about the gay marriage thing and how certain people from Chick-fil-A doesn't approve of it.

"Let me tell you this: I have uncles and aunties who do not approve of gay marriages, but they respect me. I don't care about one person's opinion or how they feel. That's fine.

"Chick-fil-A makes good meals, and I eat there quite frequently. No one is going to stop me from eating there. If I'm going to have a Chick-fil-A sandwich, I'm going to have a Chick-fil-A sandwich."
Dodson also hilariously defended his decision to continue to eat at Chick-fil-A (against the wishes of his gay peers) by speaking on the quality of the restaurant's signature waffle fries, calling them "banging" … "especially if they hot and crispy."
After receiving some backlash for his original comments, Dodson recorded a second video further elaborating on his opinion.
Watch both videos below:
Do you agree (or disagree) with Antoine Dodson?
Be the first to receive breaking news alerts and more stories like this by subscribing to our mailing list.