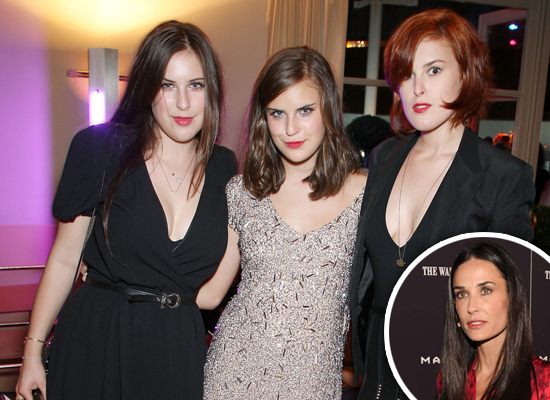 After parting ways with Ashton Kutcher due to him allegedly cheating on her with a 22-year-old woman, and doing a stint in rehab after it was found she was mixing Redbull, Aderall and Whip-Its (aka nitrous oxide ) … Demi Moore has a new battle to face.
Her daughters.
According to reports, the 49-year-old actress' daughters Rumer, Tallulah and Scout (from her previous marriage with Bruce Willis), have decided to take a brief hiatus from their relationship with their mom.
Unnamed sources have said that the young ladies have reached a "breaking point" with Moore, because she "is just being very needy right now and the girls are tired of it, they want a mother not another little sister. They are all concerned that she is going to relapse and head back to rehab and they can't deal with the stress and worry of it."
One source told The Daily Mail:
"Since breaking up with Ashton, Demi has been a mess. The girls were there for her through it all — the split and the rehab but now they just feel like they need a little distance … Demi is very messy right now and the girls have been waiting to get out and move on and now they're being sucked back in, and they're all getting into various kinds of trouble. "
Since Demi Moore's rehab stint, her daughters have had a host of problems of their own.
20-year-old Scout was busted for underage drinking and giving a police officer a fake ID in a New York City subway station … and 18-year-old Tallulah might have topless pictures of her smoking weed being shopped around to potential buyers.
Oh, and as of last week, Rumer is looking for her lost puppy, and according to TMZ she has been "hitting the streets of L.A. desperately trying to find it."
But as far as their relationship with their mom goes, the straw that broke the camel's back was when Demi showed up to Tallulah's graduation, against her daughter's wishes. Another source told Radar Online:
"The breaking point was Tallulah's graduation. None of the girls wanted Demi there but she turned up anyway and it was really strained. They had a huge fight afterwards and the girls decided it would be in their best interests to take a break from Demi for a while.

"Another huge bone of contention has been the girls' relationship with Ashton. They all adore him and talk to him regularly which Demi hates, but he was a huge part of their lives when they were growing up and they don't want to break off all contact with him.

"This won't be forever, but for now the girls just need a little breathing space and to concentrate on themselves and their own lives."
The Daily Mail's source added:
"The girls loved [Ashton] because he actually took parenting seriously even though he was younger and they miss him"
Ouch… So Ashton Kutcher is a "better" parent than Demi Moore? Who knew?
Be the first to receive breaking news alerts and more stories like this by subscribing to our mailing list.