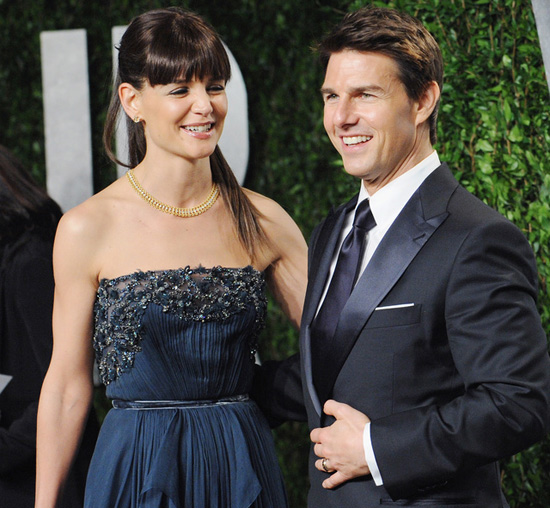 Tom Cruise, who turned 50 this week, tops Forbes Magazine's 2012 list of the highest paid actors in Hollywood.
The actor, who was blindsided last week when his wife of the past five years filed for divorce, earned a whopping $75 million between May 2011 and May 2012, putting him nearly $40 million ahead of Leonardo DiCaprio and Adam Sandler, who both came in second place after making an estimated $37 million during the same period.
$75 million earned in one year alone is a ton of money, and Tom Cruise has always been considered one of Hollywood's highest paid actors … so with all of that many in the bank, one would assume that his future ex wife Katie Holmes will walk away filthy rich when their divorce is finalized.
But according to TMZ, that is so not the case:
We've learned the prenup Katie signed is long, tight and stacked in Tom's favor. We're told reports that she'll walk away with $15-20 million are absurd. Our sources say Katie will walk away with what she brought into the marriage … and hardly anything else.

Our Katie sources tell us, "She's not about the money. She's not that girl. She loves to work."
Though Katie doesn't want any of Tom's money in the form of spousal support or alimony, she is definitely seeking child support for their 6-year-old daughter Suri, their only child together.
Sources haven't ruled out the possibility that Holmes will challenge their prenup, as it is common for divorcing couples to do so. However, "Money is not that important to [Katie]. She makes plenty on her own," Katie's friends told TMZ.
One well-placed source connected with the couple added that the fact that Holmes isn't getting anything from the marriage is proof that it wasn't fake.
Be the first to receive breaking news alerts and more stories like this by subscribing to our mailing list.