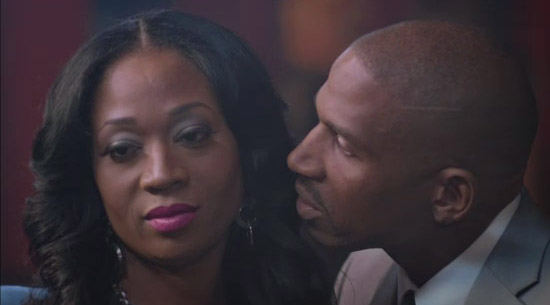 Fans of "Love & Hip-Hop Atlanta" will be glad to know that Mimi Faust says that she is FINALLY moving on from Stevie J, after being in a tumultuous on-and-off relationship with the producer for the past 15 years.
In the latest episode of the controversial VH1 reality show, which aired Monday night (Jul 2), Stevie blatantly admits to sleeping with his artist Joseline ("Did I hit it? Yeah," he said) but denied being the father of the baby she claims she's pregnant with.
WATCH: "Love and Hip-Hop Atlanta" Episode 3
Earlier in the episode, when Joseline revealed in a conversation with her best friend that she was (allegedly) pregnant with Stevie J's baby. She said, "When me and Stevie met it was just a connection that happened so fast." "Even if he is a bad man, he gave me a chance. He gave me opportunity," she said. "At the end of the day I love him."
She also told her friend that Stevie warned her that if she told people that they were having sex, her career "is over," which is why she kept it a secret. At this point, her friend suggest that she has a one-on-one chat with Mimi.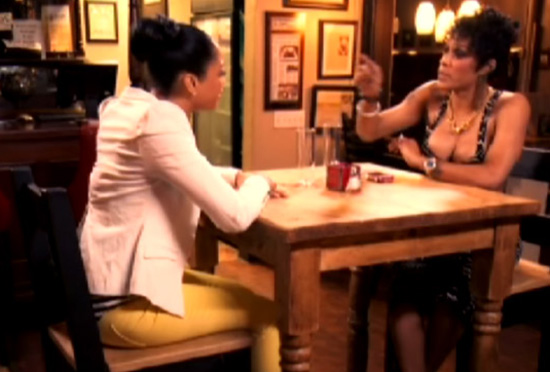 When she and Mimi finally meet face-to-face, Joseline got straight to the point, and held nothing back as she revealed that the child she was (allegedly) carrying was Stevie J's. "You and I know that when I first met him back in December he didn't come home for three months," she tells Mimi. "I know whose baby I have in my stomach, and you know too."
Mimi's response? "I know what I'm dealing with when it comes to Stevie. I'm not a f**king fool, I know exactly what I got. As far as you are concerned, you're a stripper who's trying to get on," implying that Joseline could be pregnant by someone else, or not even pregnant at all. "Do you even know who you're pregnant by?" asks Mimi.
But Joseline wasn't having it. "I'm pregnant by your man," she said with conviction, quieting Mimi.
Now, here's the part where this show could come off as scripted (and whether it is or isn't is definitely up for debate). As Mimi and Joseline are going back and forth, out of nowhere, Stevie J texts Joseline, and Mimi tells Joseline to invite him there.
Then Stevie walks in … with the pregnancy test in his hand. O_O
"I don't know any man in their right f**king mind who's gonna carry around the next bitch pregnancy test in their pocket. Who does that?" says Mimi. Apparently, Stevie J does.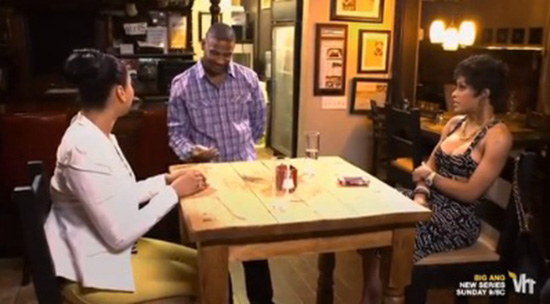 Now Mimi wants to know everything, and asks, "When's the last time y'all f**ked" Stevie says a month ago, but Joseline says five days ago. Whatever. The point is, they f**ked, they've been f**king and now there MIGHT be a baby on the way.
After receiving explicit confirmation to what she already suspected, Mimi storms out of the room, and that's when things really get ugly. Stevie J threatens to send Joseline back to the strip club, and throws a drink on her. (Really, Stevie J? Throwing drinks on women?)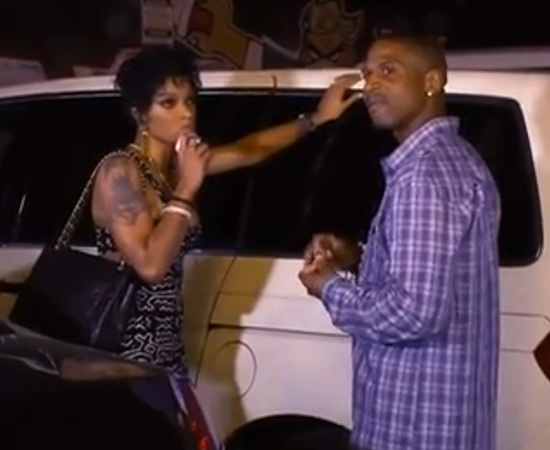 Then, Joseline and Stevie J get into a heated argument, and he tells Joseline, "I got paperwork on you … I gave you another life," and threatens to send her back to the strip club, to which she responds, in tears, "All you do is tell me, when I don't do what you say, 'oh I'm send you back to the strip club' … You know what you tell me? 'I gave you your life.' Okay, If you gave me my life, if you gon' take it back every chance you get I don't need you to give me no f**king life!"
Blah, blah, blah, whatever …
A clearly agitated Stevie J tried to end the conversation, telling her, You'll never be finished talking to me. Understand that. Watch how you speak to me Joseline. You look nice by the way," he says before giving her a 'I will f**k the sh*t outta you right now look' and walking away.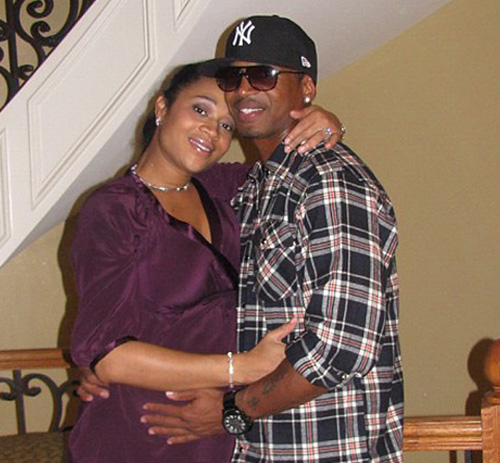 A lot to take in right? Well, apparently, it was a lot for Mimi to take in too … because after watching last night's episode, she finally decided that it was time to leave Stevie J's trifling self.
She told her Twitter followers that she is done with Stevie and his cheating ways, and that she was glad that she did the show because if she hadn't, she would have never known what Stevie was doing behind her back. (Because we all need reality shows to reveal what's right in front of our own face sometimes.)
Doing the show was a blessing and a curse. I'd still be in the dark and clueless had I not done it. The downside is dealing with the truth.

It hurts to find out the man u loved so much was capable of doing the most but I've been given the gift of clarity. My new beginning begins

My only wish is for my daughter to learn from my mistakes and know her worth and never experience what I've been thru. I love her sooo much

But at the end of the day a very dysfunctional relationship produced the most pure love Ive ever experienced. My daughter. So no regrets

I just want to thank all my followers for coming on this rollercoaster ride with me. I appreciate all the kind words. Seriously. Much love

To all the women in dysfunctional relationships- don't be embarrassed… Just learn the necessary lessons, gain strength and move forward.

[Via: Necole Bitchie]
Your thoughts?
Be the first to receive breaking news alerts and more stories like this by subscribing to our mailing list.