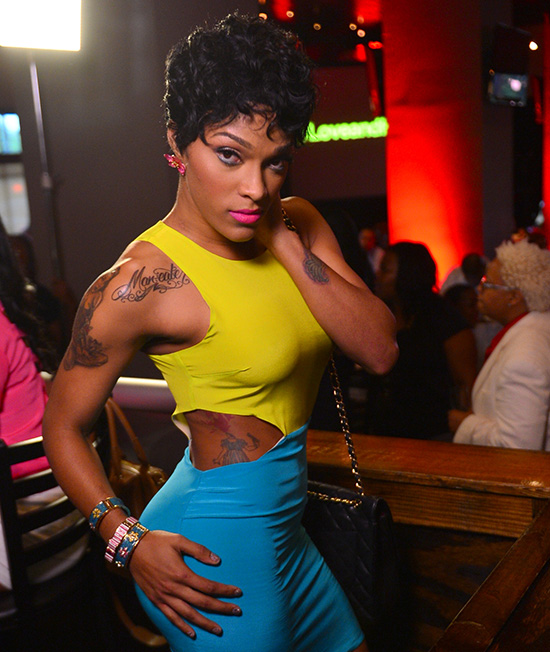 Right after the latest episode of "Love & Hip-Hop Atlanta" aired Monday night (Jul 2), Joseline Hernandez, the controversial star of the new VH1 reality show, was randomly attacked by a woman at an Atlanta nightclub.
Details right now are pretty sketchy, but various Atlanta bloggers say that a woman approached Joseline at a nightclub where the former stripper and aspiring singer was hosting a viewing party for LHHA, and boldly questioned her about allegedly having an abortion.
In recent episodes, Hernandez, portrayed as a mistress on the seemingly scripted reality series, claimed to be pregnant by her "MAN"-ager, producer Stevie J, who is already in a "relationship" with his baby mama Mimi Faust, but messes around with Joseline, his artist, on the side from time to time. (But that's another story, for another time, in a totally different post).
Joseline, who has been battling ongoing speculation about whether or not she's really a woman, reportedly brushed the lady off when when she asked her about aborting her love child with Stevie J … and in response to being ignored, the unidentified woman hit Joseline right in the face, which caused a big fight between Joseline's people and her people.
Here's how it all went down, according to the homie FreddyO:
Although I did not get to talk to Joseline, I was told that she was hurt badly and blood was running down her face as she got into a car. The woman who hit her told me, "This is some bull … I am so tired of telling people what happened!"

"My friend asked Joseline, 'Why would you get rid of the baby…' She then brushed my friend off (the chick was every NYC hood type) so my friend hit her. I mean, you can't just brush people off in the club and think it's cool. Now she's telling people that my friend hit her with a bottle and that's not true."

After speaking with the friend's alleged attacker, I asked one of the other people who broke up the fight what happened. She said, "It was crazy; things just got popping and it looked like Joseline was scratched in the face, but the club was dark so it was hard to see."
But ATLien from StraightFromTheA.com — who, by the way, is totally unconvinced that Joseline is a real woman — has a slightly different story. According to her version of events, when the woman asked Joseline about the alleged abortion, Joseline pushed her, and received a "beat down" in response.
Word is… Joeseph Joseline wasn't expecting to face the wrath of an angry fan and when she swung it was ALL OVER!

Stevie J and Benzino eventually came to his her aid and reports are that a few DUDES fought the girl who started the altercation.

Someone sent over a video of the girl as she is phoning the cops and someone who looks like Benzino hops in the back of a black sedan and drives off. (below)
FreddyO also posted a very blurry picture of what we're assuming is Joseline being hauled away from the fracas. (below)
And here's more video footage of the woman who (allegedly) hit Joseline:
This latest incident follows weeks of harassment that Joseline Hernandez has endured online due to the ongoing speculation surrounding her gender. Even though she has repeatedly confirmed that she is a woman (in more ways than one), critics continue to question her gender, which has left the reality star feeling hurt and "confused."
"I've never even heard that before. I have men give me everything I've ever wanted, and I've never had a problem with people looking at me that type of way. It's crazy to me. Do you not see all this greatness? I don't understand, I'm confused," Hernandez told blogger Jasmine Brand in a recent interview.
"I'm beautiful and a lot of women would pay thousands and thousands and thousands of dollars to look like me. You know, I work out a lot.. take care of my body and I love how I look. And hey whoever don't like it, they can stop looking! But I know they not, cause they love it too," she added.
After the very first episode of the controversial reality TV show aired, viewers immediately flocked to Twitter and questioned whether or not Hernandez is really a woman.
"Omg i thought joseline from love and hip hop atl was a man lmao," one user tweeted. "Joseline off love and hip hop looks like a man," said another.
Desperate to dispel the nasty rumors, Joseline posted a full frontal nude picture of her body online, and also released some sexually explicit videos to go along with it. While she admits that it wasn't a good move, she says the bullying became so unbearable that it could have caused her to become suicidal.
"I was stressed out. I was wrong for doing that," she said. "I shouldn't have never did that, that was my past but that was the first thing that i thought about. I just wanted people to leave me alone. They were just basically bullying me … people just really, they just don't care… that's how people end up killing themselves, because of people. I didn't have to take it to that level."
When asked about whether or not "Love and Hip Hop Atlanta" is scripted, Joseline said, "Everything on the show is real. It's the realest reality of television."
Your thoughts?
Be the first to receive breaking news alerts and more stories like this by subscribing to our mailing list.