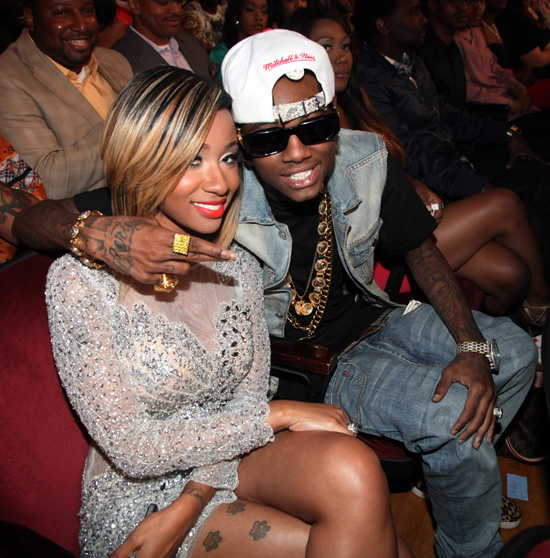 Soulja Boy and Diamond made it known to the world Sunday night (Jul 1) at the 2012 BET Awards that they are officially back together. The on-again, off-again couple posed for a few pictures the red carpet before taking their seats inside L.A's Shrine Auditorium, and also did a post-show interview later in the evening.
Diamond and Soulja Boy started dating last spring, after the former broke up with her longtime boyfriend Lil Scrappy.
It's unclear whether or not Diamond cheated on Scrappy with Soulja Boy, or if they started dating after she and Scrappy broke up. But whatever the case may be, Scrappy felt some type of way about their relationship back then, and still does to this day.
"When that Diamond situation happened, it just taught me a real valuable lesson, 'cause I know, as I can see, I'm not a good judge of character," Scrappy told MTV last month. "I ain't never had my little heart broken before, but now that it happened, I don't think it would happen for a long time," he said. "But the good side about that is, you don't put nobody before God, don't ever put nobody before God, and I think I did a little bit of that trying to help her."
Lil Scrappy stars alongside his current girlfriend (his baby mama Erica Dixon — who he left for Diamond when he "made it") on the new VH1 reality show "Love and Hip Hop Atlanta," and even though she isn't a part of the show, Diamond's name comes up a lot. But she isn't worried about the negative things her ex boyfriend and "Momma Dee" (Scrappy's mother) have to say about her.
"I wish everybody the best. I feel like only one person can judge me, and that's God," Diamond told MTV News on the BET Awards red carpet, hand-in-hand with her new man. "That's my past. I'm in the future right now, and I wish everybody the best."
Defending his girlfriend's honor, Soulja Boy said, "This is my baby, this is my girl, so anything said about her is basically they're saying it about me … I'm backin' her 100 percent, and we're just focusing on the positive. Anybody talkin' about her name on TV, that's just bringin' us up more. So salute to them, we wish them the best."
Ain't nothing like that Hood Love…
Be the first to receive breaking news alerts and more stories like this by subscribing to our mailing list.