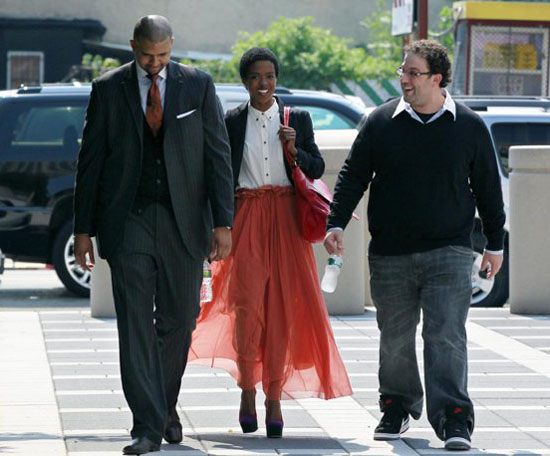 Lauryn Hill, pictured here on her way to court, pleaded guilty to multiple counts of tax evasion Friday (Jun 29) on more than $1.8 million for the former Fugees singer earned between the years of 2005 and 2007.
Alongside her attorney, Hill appeared before a judge at the U.S. District Court in Newark, NJ, and admitted to federal income tax evasion.
According to the Star Ledger, when U.S. Magistrate Judge Michael Shipp asked the eight-time Grammy winner if anyone had forced her — either directly, or indirectly — to plead guilty, Hill took a long pause, then responded: "Directly, no, but indirectly, yes."
When the judge asked the question a second time, after consulting in whispers with her lawyer Nathan Hockman, Hill answered "No."
"Ms. Hill is very particular about language," Hockman said. "Language is very important to Ms. Hill."
When the judge asked Hill if she had "intentionally and willingly" failed to file her tax returns, she replied "Yes."
Hockman said Hill planned to pay back the taxes she owes, and he believes his client was targeted by the IRS because of her celebrity status. "There are many people in society who fail to file their taxes on time who only face civil liability," he said. "They chose Ms. Hill in particular because of who she was."
Hill hardly spoke at her federal court hearting, and was shocked when the judge ordered her to undergo mental health counseling, as directed by pre-trial intervention services. Hill, through her attorney, asked the judge to explain what was meant by the word "directed."
"I want to make sure you understand that term," Shipp said. "I don't understand that term," Hill responded. The judge reportedly refused to clarify any further, and it's not clear why Hill is required by the court to undergo counseling.
By pleading guilty, Hill — who owns four corporations and makes the bulk of her money from royalties — admitted that she failed to pay taxes on about $818K she earned in 2005, $222K in 2006 and $761K in 2007.
Earlier this month, Hill posted a rambling explanation for why she failed to pay her taxes on Tumblr, writing that she withdrew from society in order to keep herself and her family safe.
She claimed that her failure to pay taxes was due to her being driven "underground" by "the climate of hostility, false entitlement, manipulation, racial prejudice, sexism and ageism that I was surrounded by."
She continued, "I did not deliberately abandon my fans, nor did I deliberately abandon any responsibilities, but I did however put my safety, health and freedom and the freedom, safety and health of my family first over all other material concerns!"
Hill also wrote, "I also embraced my right to resist a system intentionally opposing my right to whole and integral survival," adding, "I conveyed all of this when questioned as to why I did not file taxes during this time period … Obviously, the danger I faced was not accepted as reasonable grounds for deferring my tax payments, as authorities, who despite being told all of this, still chose to pursue action against me, as opposed to finding an alternative solution."
Lauryn Hill rose to fame in the 90?s as a member of The Fugees with Wyclef Jean. She would later go on to release her first (and so far, her last) solo album "The Miseducation of Lauryn Hill," which earned her five Grammy Awards, in addition to the two she earned with The Fugees, giving her a total of 8 Grammys — which is pretty damn good with just one solo album under her belt.
In between all of that, Hill starred in "Sister Act 2? in a role that first brought her national prominence, with film critic Roger Ebert calling her "the girl with the big joyful voice."
In recent years, Lauryn Hill has returned to the stage to not only support her family (she has six children), but to reconnect with her fans who have been begging for a new album from her for well over a decade.
Hockman said in order for Lauryn to repay the government the money she owes, she will have to amp up her work schedule. On July 4th, she's scheduled to perform in Philadelphia, and she's expected to tour regularly over the coming months.
"Ms. Hill is touring for no other reason than that she is a musician," Hockman said. "She will use some of the money earned to pay off what she owes."
Hockman had requested that Hill's sentencing be pushed back to January so that she can have more time to collect the money she needs to "make the government whole," he said. Her original sentencing date was proposed for early October, however the judge agreed to a late November sentencing as a compromise.
If convicted, Hill faces up to three years in prison — one year for each count — and as much as $75,000 in fines.
Be the first to receive breaking news alerts and more stories like this by subscribing to our mailing list.