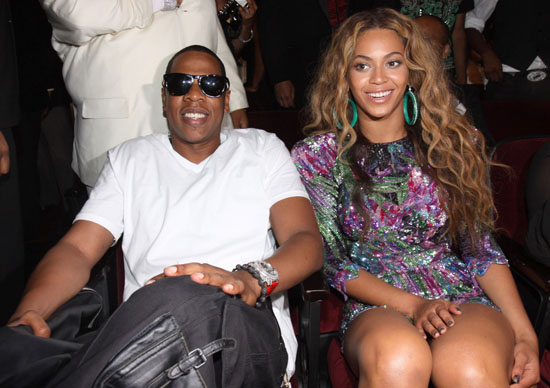 Beyonce and Jay-Z have both been confirmed to attend this year's BET Awards, where the happily married couple will compete against each other in the biggest category of the night: "Video of the Year."
Beyonce, the second most nominated act, is up for a total of six awards, while her husband Jay-Z is nominated in five categories. Their bro-in-law, rapper Kanye West leads the pack with seven nods.
Jamie Foxx, Cedric the Entertainer, Quentin Tarantino, Taraji P. Henson, Tyler Perry and many others are scheduled to present awards, while Chris Brown, Nicki Minaj, Usher, Kanye West and more are set to perform.
But the real question is … will Beyonce be hitting the stage?
Though nothing regarding a performance from Beyonce has been confirmed, there are rumors floating around that she will sing during the planned Whitney Houston tribute.
Manuel A. Mendez — a member of Bey's wardrobe team — was the first to break the news that she would even be at the show at all when he tweeted this:
What would the hottest chick in the game wear at #BETAwards? The hive is working working!! #Behive you wont be disappointed.
Meanwhile, Stephen Hill from BET tweeted the following out a couple days ago when a fan asked him if the awards show was going to have more R&B performers:
Really?! D'Angelo. Chris Brown. Whitney Tribute. Usher. Maze. Someone else we haven't announced yet.

What I love: almost EVERYONE that folks have been @'ing me about that they wanna see on the show…are on the show!! #BETAwards yes!
The next day, Hill tweeted this, further raising speculation that Beyonce could be performing at the show:
Which artist in the Whitney tribute just left me a VM: "I'm saying my prayers, grabbing my pumps and I'm on my way!"? 🙂 #BETAwards
The messages are pretty vague, and Stephen Hill can be talking about anybody … but something deep down in our gut tells us that Beyonce will definitely be gracing the stage at the 2012 BET Awards.
Guess we'll just have to wait and see if our gut-feeling is right on Sunday, July 1st when the show airs live from Los Angeles!
Will you be watching … and are you looking forward to a possible performance from Beyonce?
Be the first to receive breaking news alerts and more stories like this by subscribing to our mailing list.