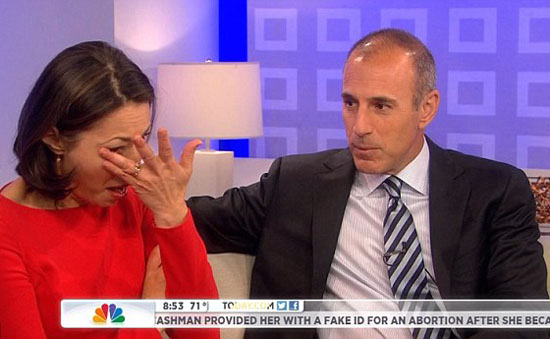 After just one year of sitting beside Matt Lauer as the co-anchor of NBC's "Today" show, Ann Curry confirmed via an announcement on the show this morning that she's leaving … and judging by her sad and tearful exit speech, it looks like she doesn't like it one bit.
Annn Curry joined the show as a news anchor back in 1997, and when Meredith Viera (who replaced Katie Couric) left last June, Curry took her spot, joining Matt Lauer as the co-anchor. But her pairing with Matt Lauer never seemed to click, and when the show experienced ratings troubles this past Spring, Curry took the fall … and now she has been unceremoniously booted from her position on the show.
According to insiders, Matt Lauer recently renegotiated his contract with NBC, and made it clear that he did NOT want Ann Curry as his co-anchor. Additionally, in recent months, NBC's "Today" show has had its worst ratings in almost 20 years, and this past Spring, it was beaten four times by its rival show, ABC's "Good Morning America."
Curry's exit was noticeably different than the lengthy tribute shows given to her predecessors Meredith Viera and Katie Couric. She announced it during the last few minutes of the show, ending a week of awkward television as she continued working, even after word spread that NBC was looking to get rid of her.
Fighting to maintain her composure and appearing to choke back alligator tears, Curry awkwardly told viewers, "This is not the way I expected to leave … For those of you who saw me as a groundbreaker, I'm sorry I couldn't carry the ball over the finish line," adding that she was "grateful" for her 15 years on the show.
When Matt Lauer leaned in to kiss her on the cheek, you could literally feel the awkwardness, as Ann did everything in her power to not look him in the eye … but when she hugged Al Roker and Natalie Morales, she looked at them squarely in their eyes.
Though Ann Curry won't be a "Today" show news anchor, under her new deal with NBC she will continue to produce for "Nightly News," "Dateline," "Rock Center" and "Today," and she will also fill in as an anchor on "Nightly News."
NBC also said that Curry will be given the title of anchor-at-large, and will be their national and international correspondent, which Curry snidely called a "fancy new title."
"Today" correspondent Savannah Guthrie, who co-hosts the 9 a.m. segment of the show, is expected fill Ann Curry's spot.
What do you think about Ann Curry's tearful "Today" show exit?
Be the first to receive breaking news alerts and more stories like this by subscribing to our mailing list.