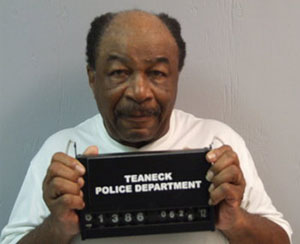 72-year-old Daniel Collins Jr. was taken into police custody Monday night (Jun 25) after he allegedly pulled a gun out on his neighbor after he farted in his direction outside his door.
According to news reports out of Teaneck, New Jersey … Collins and the unidentified neighbor both lived in the same apartment building, and had been going at it for some time over "noise complaints."
But their dissension grew when Collins snapped and pulled out his silver revolver after hearing his neighbor "fart at him" (our words, thank you very much) right in front of his apartment door.
Collins, who heard the un-neighborly act from inside his apartment, allegedly told the guy "I'm going to put a hole in your head."
The neighbor called police, and Collins initially denied brandishing the weapon. However, after a search, officers found a .32-caliber Taurus revolver that fit the description given to them by the neighbor.
Collins was subsequently arrested and charged with aggravated assault, unlawful possession of a firearm, possession of a weapon for an unlawful purpose and making terroristic threats. He was later released on his own recognizance.
Be the first to receive breaking news alerts and more stories like this by subscribing to our mailing list.