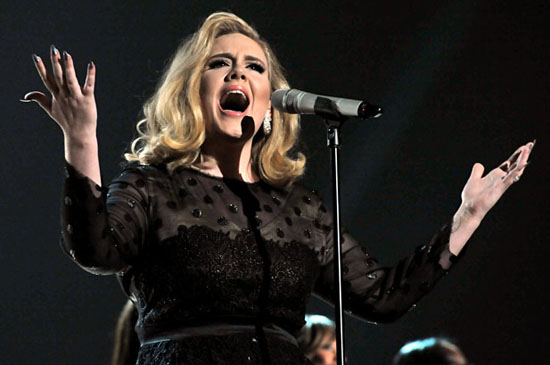 In Marc Shapiro's unauthorized biography entitled "Adele: The Biography," the author disclosed that Grammy Award winning singer's former boyfriend left her … for her gay best friend!
The alleged incident took place around the time of the singer's 18th birthday, after she and her first love professed their love for each other. Not too soon after that (just 4 hours later, to be exact!), her bisexual boyfriend ran off with her male best friend, who was gay.
Published by the Daily Mail and other publications, Shapiro wrote:
"One thing we know is that it was a first love gone terribly bad. Adele had professed her love and he did the same, she had known he was bisexual but, in the rush of romance, felt they could make it work. Four hours after laying their emotional cards on the table, the boy ran off with one of Adele's gay friends!"
Her heartbreak worked in her favor though, as Adele later went on to write two songs — "Hometown Glory" and "Daydreamer" — which both appeared on her debut album "19." Both were about a bisexual man she had hopelessly fallen for.
Shapiro also shed light on the "Someone Like You" star's supposed alcohol problem, which was brought on by the heartbreak of losing her lover to her gay friend.
He told In Touch Weekly in an interview "Adele would drink more than normal to salve the heartbreak," and that during her first tour "she allegedly had a drinking problem." He also added that she "loved the drama surrounding boys who treated her badly."
Shapiro's book also contains parts of an interview with Adele talking about when she had fallen off a stool in a drunken stupor while performing a concert. "I got so drunk by the time I went on at 2am I had forgotten the words to my own songs … It was the worst thing ever," Adele remembers, according to Shapiro.
"Adele: The Biography" is scheduled to hit bookstores on July 17th.
Be the first to receive breaking news alerts and more stories like this by subscribing to our mailing list.