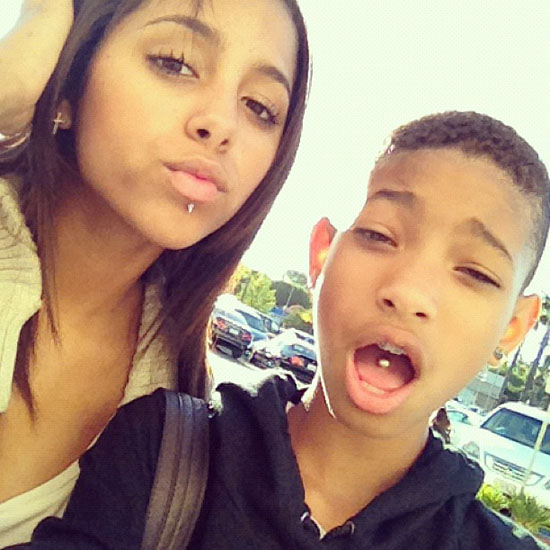 Does Willow Smith really have a tongue ring? … Did she really get her tongue pierced? … Did Will and Jada Smith LET her get her tongue pierced?
Those were among the many questions asked on Twitter when a picture of Willow Smith showing off what looked to be a tongue ring popped up online this week.
One Twitter user wrote:
"Willow Smith got her tongue pierced at 11 years old. When I was 11, I was making sure my tamagotchi didn't die, not getting piercings."
Another person tweeted:
"Willow Smith is 11 and has a tongue ring. WHERE ARE HER PARENTS?"
And others tweeted:
"Willow Smith has a tongue ring. Yo…I'm out. Bye. PS: Never having children."
"That awkward moment when you find out Willow Smith has a tongue piercing. She's 11."
While we can't help but agree that an 11-year-old should NOT have a tongue piercing … it turns out that there's nothing at all to worry about, because Willow's "tongue ring" is FAKE!
A source close to the singer and her famous family told the rumor busters over at GossipCop.com that the ring on Willow's tongue "isn't a piercing — it is a magnet," adding that the pre-teen is "Just a young girl having fun with accessories."
Additionally, the picture — originally posted to Instagram — had the following tags: "#fake, #dontjudge, and #justhavingfun."
Now we can all relax … for now. Because according to her father Will Smith, little Willow gets to do pretty much whatever she wants with her own body, so if she really did want a tongue ring, she would have one.
"When you have a little girl, it's like how can you teach her that you're in control of her body? If I teach her that I'm in charge of whether or not she can touch her hair [for example], she's going to replace me with some other man when she goes out in the world," Will Smith explained in an interview last month
"She can't cut my hair but that's her hair. She has got to have command of her body," he added. "So when she goes out into the world, she's going out with a command that is hers. She is used to making those decisions herself. We try to keep giving them those decisions until they can hold the full weight of their lives."
Do you think Willow Smith is too young to be posing with a tongue ring … even if it's fake?
Be the first to receive breaking news alerts and more stories like this by subscribing to our mailing list.