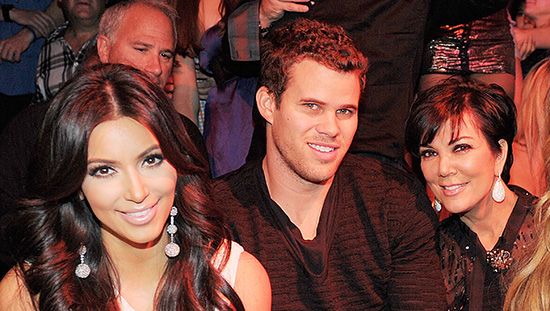 The ex girlfriend of Kim Kardashian's ex husband Kris Humphries says that he told her that Kris Jenner ordered Kim to shoot her infamous sex tape with Ray J. And not only that, but according to Humphries, Jenner even went so far as to instruct Kim to "re-shoot" the tape because she didn't think the first one was "pretty enough."
But sources close to the Kardashians tell TMZ that Kris Humphries is a big fat liar … because Kim NEVER told him ANYTHING about her sex tape.
In fact, the reality star made it very clear to the NBA player at the beginning of their relationship that she would NOT discuss the tape with him because she didn't want to be judged by it.
According to TMZ's sources, sex tape talk never came up between Kim and Kris, and these "accusations" just show that Kris is delusional.
When a TMZ camera man asked Khloe Kardashian about Kris Humphries' allegations about her mom, she said, "That is just disgusting and disturbing, and probably HIS fantasy!"
Meanwhile, Kris Humphries' ex girlfriend Myla Sinanaj — who he started dating in January, a few months after Kim Kardashian filed for divorce from him — was recently subpoenaed by Kim's lawyers in hopes that anything Kris may have told her could help Kim in her divorce case.
In addition to the sex tape allegations, Humphries also told his (alleged) ex-girlfriend that she was the love of his life, and that he couldn't wait to get his divorce from Kim over with so that he could be with, TMZ reported … also noting that the information is extremely damaging to Kris' $7 million lawsuit against Kim, in which he claims that Kim destroyed him emotionally by allegedly defrauding him into believing their marriage was real.
If Kris Humphries was in a new relationship and telling his "new" girlfriend that she was the love of his life just two months after his first marriage failed — in just 72 days — his lawyers' argument of their client being "defrauded" and "destroyed emotionally" might not hold up too well in court.
Kris denies ever being in a serious "relationship" with Myla — he claims she was just a "booty call."
But Myla's lawyer Joe Tacopina says that his client has solid proof that her relationship with the NBA player was more than just a simple booty call.
"Myla has thousands of text messages from Kris, he would text and call her at least 50 times a day," Tacopina told RadarOnline.com. Does that sound like a casual relationship to you? Kris did tell her he loved her in some of the text messages. On days Kris would have basketball games, he would call and text her a lot as well."
Tacopina continued, "It would be pretty hard to claim that you are broken hearted if you are dating my client just two months after the marriage broke up. My client's relationship with Kris goes to the heart of his claim against Kim Kardashian and that could hurt him, certainly."
On Kris' allegations that Myla is trying to defraud and extort him — like he claims Kim did with their 72-day marriage — Tacopina said, "I will say this, Kris Humphries has to be the only 7ft. man in the universe to have two women under 6ft tall bully, defraud and attempt to extort him. It's absolutely ridiculous."
Be the first to receive breaking news alerts and more stories like this by subscribing to our mailing list.