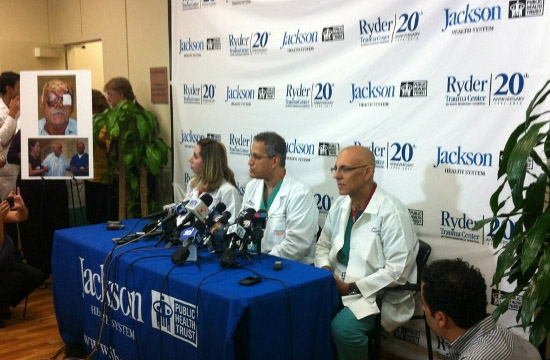 The first photos of "Miami Zombie" attack victim Ronald Poppo were released with his permission earlier this week during a press conference at Jackson Memorial Hospital, where Poppo has been receiving treatment.
The 65-year-old has reportedly undergone multiple skin graft surgeries since he was first admitted on May 26th, and doctors say that he is awake, alert and doing "well," but is in need of more surgery.
In one of the photos, Ronald Poppo is shown walking down a hallway, assisted on either side by a hospital worker. The other photo shows a more recent look at the man's horrific injuries — one of his eyes is covered by gauze, and the other, which was lost as a result of the attack, is covered by skin (since his eyelids were chewed off).
Poppo's nose is also noticeably missing, and his forehead is a mass of scabs. The lower half of of his face, roughly from the mustache down, appears to be in tact.
Doctors said that approximately 50% of his face was missing, and that the "extremely charming" Poppo remembers the attack, understands that he is in the hospital, and is also aware of the mass media coverage.
"It's amazing," University of Miami trauma surgeon Nicholas Namias said of Poppo. "He's an extremely charming man. You talk to him, he's very upbeat, he's very pleasant, he hasn't said one thing negative to me. Every time I ask him how he's doing, he says he's doing fine."
According to AP reports, Poppo — who requests Italian food and can't wait to go swimming — has asked that the TV in his room be turned off … unless his favorite team the Miami Heat is playing.
"I kid you not, he wanted to talk about the NBA Finals," Namias said. "He asked me if I'd be watching the game tonight, and told me, 'Go Heat.'"
Poppo will reportedly remain in the hospital for several more weeks as doctors continue to repair what's left of his face.
Look below for the first images of Ronald Poppo's face following his first wave of reconstructive surgeries (WARNING — THE PHOTOS ARE GRAPHIC):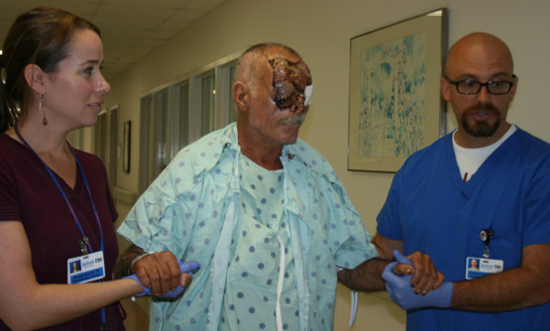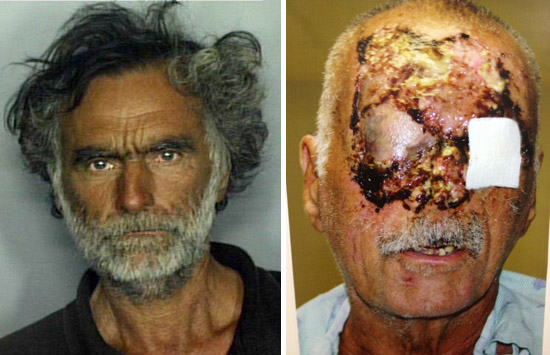 Be the first to receive breaking news alerts and more stories like this by subscribing to our mailing list.