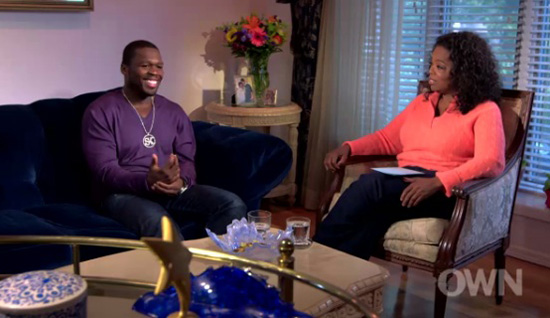 After more than six years of feuding, Oprah Winfrey and 50 Cent have finally squashed their beef with each other.
Over the years, 50 has made it known that he isn't the biggest fan of Oprah, and he even named his dog after the talk show queen as an obvious diss to her.
During their chat on "Oprah's Next Chapter," which aired Sunday night (Jun 10) on OWN, Oprah called the rapper out and confronted him about his dog named "Oprah." (Can you say awkward?)
Oprah: I heard you had a bitch named Oprah…

50 Cent: You know how they say a dog's a man's best friend?

Oprah: Yeah, I know, I have had 22 dogs in my life; I have five right now. But you named your dog Oprah … that was not a compliment! Why'd you name your dog Oprah?

50 Cent: At the time, I was just looking at the situation and I saw I was developing negative feelings for someone who doesn't even know me, and I gave it to the dog because I was excited about the dog at the time … I would see moments when you would discuss your feelings on the culture, and everything that was wrong with the culture was what was on my CD, and I was like, 'Oh, she doesn't like me'
The interview took place at Fiddy's grandmother's house in Jamaica Queens where he was raised.
Watch the full thing below:
Be the first to receive breaking news alerts and more stories like this by subscribing to our mailing list.