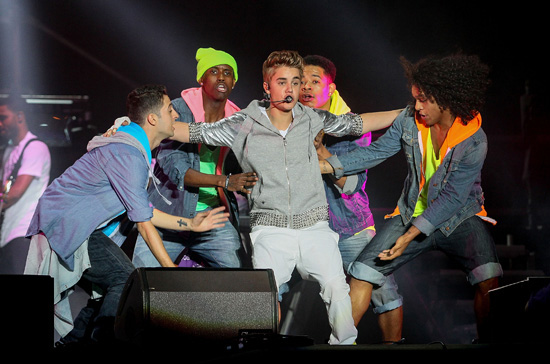 Justin Bieber treated at least 300,000 of his fans to a free concert in Mexico City Monday night (Jun 11).
The 18-year-old Pop superstar entertained the huge crowd with his hit singles "Baby," "Somebody to Love," and "One Less Lonely Girl," while an estimated 5,000 police officers were on hand to control his dedicated Beliebers.
Before the concert, Bieber tweeted:
"The pics of the crowds look CRAZY here in MEXICO CITY!! IM HYPED!! This is going to be fun! MEXICO I LOVE YOU! Te AMO MUCHO!!"
And after the show, he tweeted:
"Everything about tonight was special. it is everything we stand for. alot of emotions but it was worth it. 300,000 people. Te Amo MEXICO. NO ONE CAN EVER TAKE AWAY YOUR DREAMS! BELIEVE. DREAM BIG!"
Before hitting the stage, the "Boyfriend" singer posted a video message he recorded backstage to his Twitter.
"I can't say how thankful I am…This show here in Mexico City, it's going to be incredible…I just wanted to make this video and tell you guys you inspire me just as much as I inspire you. God has really blessed me," he said amid the shouts of his fans in the background. "I hope to have this journey for a long time."
Justin Bieber has been traveling the globe and playing a number of free shows, including headline-making stops in Oslo, Norway, and Paris. He will officially hit the road later this year for his already sold-out "Believe" Tour.
And while thousands of Bieber's devoted fans camped out and waited in line for days his concert, the teen star said at a press conference before the show that there is no artist alive that he would spend days in line waiting for.
"There is no one I admire so much to do something crazy, but if Michael Jackson were here, I would do it for him. So, I do understand the emotion that the girls feel and that makes me feel very honored," he said.
Check out the pictures from the concert below:
Be the first to receive breaking news alerts and more stories like this by subscribing to our mailing list.