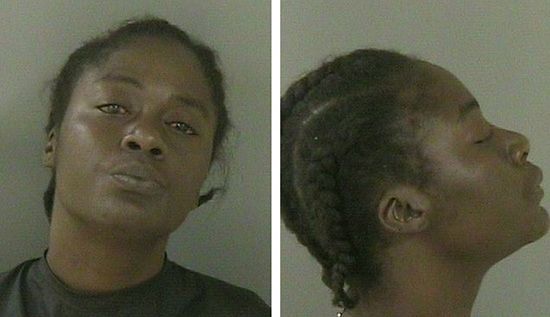 Just by looking at her mugshot, you can probably tell that Sharee Barnes has no f**ks what-so-ever to give. And guess what … she doesn't!
The 32-year-old Florida woman was reportedly arrested last month after she threatened to "take a sh*t" on her neighbor's front lawn, and also threatened to have his wife raped.
According to reports, cops were called to the home of Elman Antonio Diaz at around 3:30 am, the morning of May 27th, and upon their arrival, they observed Barnes yelling obscenities at the homeowner.
Diaz told cops that when he spotted Barnes on his property — after being alerted by a motion sensor light — he saw the woman literally squatting over the grass in his front lawn, and threatening to "take a sh*t."
According to a police report obtained by the Huffington Post, Barnes also allegedly physically threatened Diaz, and told him that she would get her cousins to come to his house and rape his wife.
Local news station WPTV noted that it wasn't clear if Barnes, who police say was drunk, actually pooped on Diaz's lawn … but what she did, in addition to the random rape threat, was enough for him to call police.
The responding officer noted that when he arrived on the scene, he immediately smelled alcohol on Barnes breath, and warned her that if she wouldn't stop shouting and "causing a scene," she would be arrested.
In response to the officer's ultimatum, Barnes then went to her own driveway, and told him that he couldn't arrest her because she was on her own property. She also said that she was going to call 911 on the cop because she didn't like him.
Barnes was arrested and charged with disorderly conduct and public intoxication.
No word on whether she will face any charges for not having at least one f**k to give.
Be the first to receive breaking news alerts and more stories like this by subscribing to our mailing list.