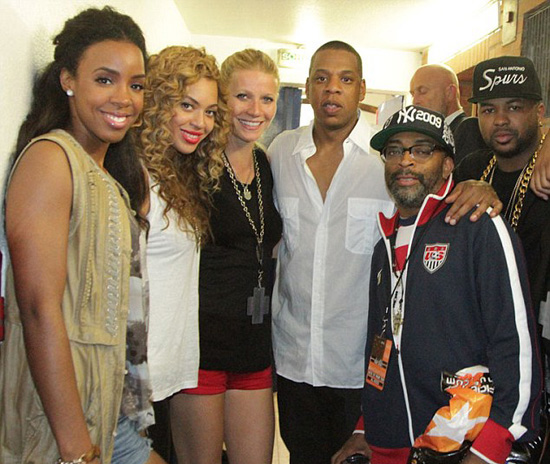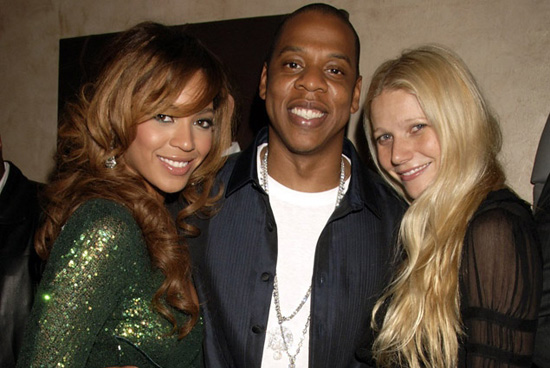 Gwyneth Paltrow — who, along with her husband Chris Martin (from Coldplay), is really good friends with Beyonce and Jay-Z — found herself in hot water with the Twitterverse after she sent out a questionable tweet during her pal Jay-Z's "Watch the Throne" concert in Paris last weekend.
While Jay-Z and Kanye West (aka "The Throne") were performing their hit single "N**gas in Paris" Saturday night (Jun 2) — which we hear they performed a whopping 11 times! — Paltrow, clearly caught up in the moment, seemingly tweeted a picture of herself on stage with the rappers and the following caption:
"Ni**as in paris for real @mrteriusnash (the dream) tyty, beehigh"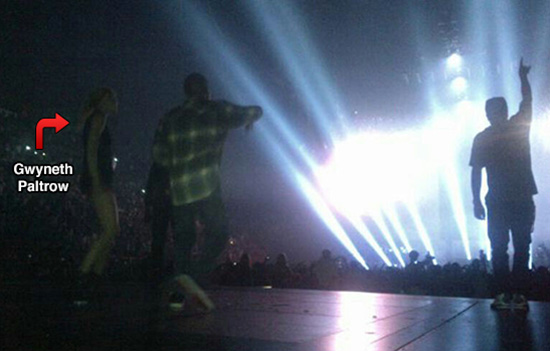 The tweet immediately sparked a firestorm of hateful tweets from some of her followers, who accused her of being racist and using the word in a derogatory way. Defending herself, GP tweeted:
"Hold up. It's the title of the song!"
The Dream stepped in to defend his friend, clarifying that it wasn't her that sent the tweet out, it was actually him. He tweeted:
"FYI, sorry for the confusion. I typed 'N—– in Paris for real' from Gwen's phone, my bad … Please excuse it! We were lit."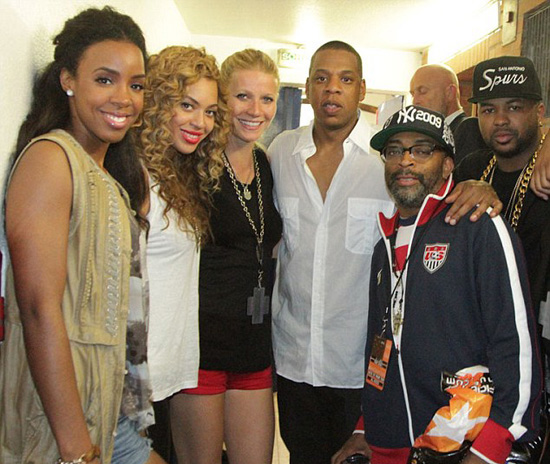 The Dream then went on a Twitter rant in reaction to fans calling him out for defending Gwyneth Paltrow, saying that people give the "N" word too much power:
"Nigga doesn't have any power over me which is why this will be the last thing I say about it. A word means something when u react to it!

"Context is everything. Meaning it in the context as a Song which is how we Sold it to the world!!!!!! it is what it is. I've seen people not use the Word at all and have been the most racist people rather than use it in the context as the song it self.

"And Actually Niggaz was in Paris! Lol stop wasting gods time Do something with your life! Love not War. Again I take full Blame! Trust me if I felt a mfkr was trying me on that Tip that was that close to me I wouldve been arrested. Be Nice"
The next day when he noticed people were still hitting his timeline, continuing to press the issue, he unleashed another Twitter rant, continuing his earlier thoughts claiming that people give the word too much authority:
"Yall still on that sh*t! Yall Give "N**ga To Much power" somewhere the actual racist People are Laughing there asses off, so much energy. Let that Word hold power over me but yet use it as Power. Those same slaves Great,Great grands are Wiser now and Free!

"I'm not Saying don't forget but be logical and use common sense. If it meant the Same as it Did then WE wouldn't use it, that would make us ignorant We USE IT because Evidently it doesn't mean the same if u really give a sh*t u stop using it.

"Sure Attack her you know she's not going to do anything, you know in your heart she didn't mean it in anyway. The world is just full of Bull sh*tters who act like they give a sh*t haven't did one righteous act in there lives.

"Its a Hot Topic because people aint got sh*t To Do! Period. Say what u want. No one called Trayvon N**ga before he shot him it was an action. Racism is an Action! What! WE GIVE THE WORD TO MUCH POWER! Any way N**gaz! What's GOOD"
What are your thoughts on the use of the "N" word? Do you agree or disagree with The Dream?
Be the first to receive breaking news alerts and more stories like this by subscribing to our mailing list.