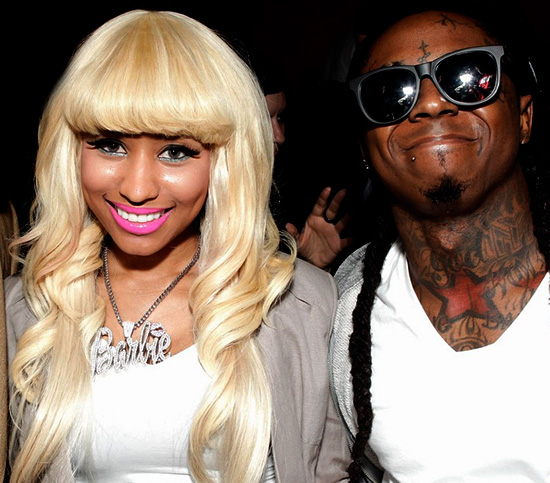 Among the many performances during the annual Hot 97 Summer Jam concert in New Jersey Sunday night (Jun 3) was a bunch of drama … thanks Hot 97 DJ Peter Rosenberg and his opinion about Nicki Minaj's "Starships" song.
Just an hour or so before Nicki Minaj was due to hit the main stage, while Peter Rosenberg was introducing up and coming rapper Kendrick Lamar to the "pre-stage" in the parking lot, the controversial radio personality said, in reference to Nicki:
"I see the real hip-hop heads sprinkled in here. I see them. I know there are some chicks here waiting to sing 'Starships' later—I'm not talking to y'all right now. F**k that bullsh*t … I'm here to talk about real hip-hop sh*t."
Unsurprisingly, once Young Money bossman Lil Wayne caught wind of the shots fired at one of his top artists, he simply tweeted:
Young Money ain't doing summer jam.

— Lil Wayne WEEZY F (@LilTunechi) June 3, 2012
And with that, all Young Money artists — with the exception of Tyga and Busta Ryhmes who had already performed — were dropped from the show, including Nicki Minaj who tweeted:
"Wow. U n**gaz just f**ked up history. But the President has spoken. #YMCMB. Had a HELL of a f**king lineup. But we won't be disrespected. I go above and beyond for my fans. But won't ever go against wayne's word. What he says goes."
Nicki Minaj was scheduled to perform with Nas and Lauryn Hill, and the two rappers took to the stage despite Nicki's absence, with Hill joining Nas on "If I Ruled The World."
Other acts scheduled to hit the stage with Nicki included her YMCMB labelmates Drake, Tyga and DJ Khaled, Atlanta rapper 2 Chainz, and even Cam'ron and Beenie Man. There were also rumors that she was going to bring out Foxy Brown too, as a special message to Lil Kim — who despises both Foxy and Nicki.
J. Cole, ASAP Rocky, Big Sean, Young Jeezy, Rick Ross & Maybach Music Group, Slaughterhouse and others — including surprise acts Wu Tang Clan and Mase — went on with their scheduled performances.
Sources tell us that Lil Wayne was even willing to change his mind about his artists performing if Rosenberg apologized, but he didn't … and to make matters worse, later in the show, Funkmaster Flex (another Hot 97 DJ) also slammed Nicki Minaj on stage, telling the crowd (but talking to Nicki, directly):
"We ain't f**kin with commercial rappers no more! If you lost the f**kin streets, its your fault! If you don't go gold, it's your fault! I'm dedicated to tearing you down! F**k with me! We gon show you mama, you think you didn't sell any records this time?"
Flex also tweeted that Nicki will be calling in to his show Monday night (Jun 4) at 7pm, which is when he'll break down the entire beef, from start to finish:
all questions will be answered tonight !!! @Nickiminaj will be on the show tonight !!!!

— Funk Flex !!!!!(@funkmasterflex) June 4, 2012
While we understand Mr. Rosenberg's stance on Hip-Hop and how much he loves the "underground scene" … we can't help but point out how unprofessional and foolish it was of him to blatantly diss the 2012 Hot 97 Summer Jam's headlining artist — who most people probably came to the show to see anyway.
To have your own personal opinion is one thing, but to be blatantly disrespectful about someone who was INVITED to perform as a headlining act is another.
And because Rosenberg couldn't keep his thoughtless opinion to himself (or at least save it for the radio), one of the biggest acts of the night — along with her guests and labelmates — didn't touch the stage, resulting in a shorter and less fulfilling concert over-all, which probably pissed a ton of fans off.
Good job, Hot 97! Way to represent Hip-Hop…
Do you think Lil Wayne was right to pull Nicki Minaj and Young Money from Summer Jam over Peter Rosenberg's disrespectful comments?

Be the first to receive breaking news alerts and more stories like this by subscribing to our mailing list.