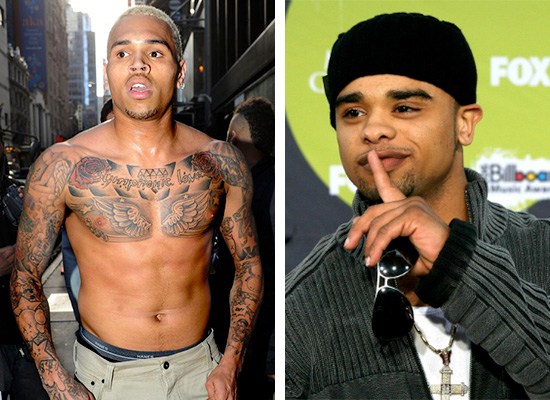 Raz B of the former boy band B2K is back in the news again … this time, for his (highly unbelievable) allegations that a number of popular artists participate in homosexual activities behind closed doors.
The allegations show up in a flippant "tell-all book" written by Raz B called "This Boy's Life," in which the former B2K singer details claims that he was molested by his cousin/manager Chris Stokes, and forced to have sex with his B2K bandmates.
The book also accuses a number of your favorite performers — including Chris Brown, Omarion, Ray J, Bow Wow and others — of being closeted homosexuals.
If any of this sounds familiar to you, it's because in 2007, Raz B (real name: Demario Thoronton) released a series of videos admitting to the molestation and forced sex acts … But after a few days, he deleted the videos from his YouTube account, and replaced them with an "apology" video, retracting his sexual abuse allegations.
3 years later, in October 2010, when Bishop Eddie Long was going through his highly publicized sexual misconduct case, Raz B brought his sexual abuse claims back up again in another series of videos posted to WorldStarHipHop.com.
In one of the videos, Raz goes completely bizerk on R&B singer Marques Houston and accuses him of being a pedophile.
Now it looks like Raz B is back to his old tricks, and is continuing his smear campaign against his former B2K band mates, touring partners, R&B peers and whoever else he can think of.
Check out some excerpts from the "memoir" — which should NOT be taken seriously — (via Oh No They Didn't) below:
On B2K:
"There were no girls; there were no breaks, and absolutely NO meat. Our diet was so strict that I remember passing out during rehearsals because of our heavily restricted diet." Thornton goes on to say, "More important than the food was girls. Girls were not allowed to even have our number. Chris(Stokes) would say that girls were a distraction, but in reality, it was just for his own sexual desires."

"Chris was gay- he tried his best to hide his sexual appetite from his family, but we knew. Chris would make us (members of B2k) go into rooms and have oral and sometimes anal sex. He often time would take pictures of us engaging in sex acts. To this day, I think he still has those images."

"Me and Boog (Jarell Houston, known as J. Boog) resisted the most. Fizz and Omari (Omarion) however seemed a lot easier to take advantage of. I suspect it was because Fizz was so much younger and Omari was just gay."
On Ray J:
"Ray J was cool at first. I was under the impression that he wanted to help me. But just like with Whitney (Houston) he was just looking for someone to use. Ray J said that he was mad about how Chris did us and other artist, but Ray J just wanted airtime." He went on to say, "Ray J made a diss song about Chris being gay, but that's the kettle calling the pot black."
On Bow Wow:
"Bow Wow was younger than all of us, but the record company figured his affiliation with us (B2k) would be great. I didn't see it for myself but I was told by Fizz that Bow Wow and he got involved with each other. I didn't put a lot of stock in it then. It would be a few years until I realize that Fizz wasn't lying. In 2005 Bow Wow and Omari became "inseparable". It wasn't until rumors forced Bow Wow to end the relationships. The gay talk was hurting Bow Wow's business."
On Chris Brown:
"I've never had issues with substances; even when I was at my lowest. I always thank God I never had a serious addiction like the Weezy's [Lil Wayne] and the Breezy's [Chris Brown].

"What type of man hits a woman? A man that does not honor womanhood or the fragility of it. I also read that most men who beat women have latent homosexual tendencies. So there you go.

"They say you never know who knows who. Chris Brown didn't think about that when he attacked me online. I have a friend that's very close to Chris' camp who told me that Chris was involved with an up and coming songwriter Andre Merritt. So when Chris started going in calling people 'gay' and 'fags' I just dropped Andre Merritt's name. I knew it was true when he decided to shut up."
Chris Brown — who, so far is the only person to respond — took his Twitter to refute Raz B's ridiculous accusations:
"Lying about somebody in a book is called defamation of character. Keep feeding people bulls**t and ima end up owning you and that book! RAZ B! God bless… My lawyers are handling it! Lol ima chill!"
Brown later deleted the tweets, but not before they were retweeted and screencapped by hundreds of his followers.
Believe it or not, this isn't the first time Chris Brown and Raz B have gone at it on Twitter. (Read all about their first Twitter spat here.)
The latest controversy comes just weeks before Chris Brown is due to release his new album "Fortune." Raz B's book will be released this September.

Can't we all just get along?
What do you think about Raz B's book and Chris Brown's response to the allegations?
Be the first to receive breaking news alerts and more stories like this by subscribing to our mailing list.