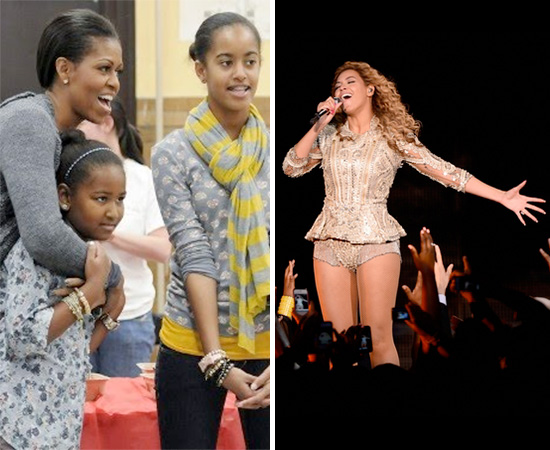 Among the 5,500 fans at Beyonce's opening night show at the Revel Resort in Atlantic City, New Jersey Friday night (May 25) was First Lady Michelle Obama and her two young daughters Sasha and Malia.
A source backstage told the New York Daily News that word of First Lady's Obama's appearance started spreading shortly before the concert took place at the $2.4 billion Atlantic City resort.
"People backstage kept saying, her good friend Michelle is coming," said the source. "I thought they meant Michelle Williams from Destiny's Child."
Though Presiden Obama didn't attend, the First Lady and the First Daughters had plenty of company, as they were reportedly joined by Oprah's BFF Gayle King, and a group of 13-year-old Malia and 10-year-old Sasha's friends.
PHOTOS/VIDEO: Beyonce Kicks Off Revel Concerts in Atlantic City; Pays Tribute to Whitney Houston
While Beyonce sang "Irreplaceable," concert attendees say that Mrs. Obama and her girls were mimicking the "to the left, to the left" finger gestures that Beyonce does in the video.
Eyewitnesses say the also Obamas danced to "Single Ladies," the last song in Beyonce's over two-hour set.
Mrs. Obama's appearance at Beyonce's concert isn't that surprising either, as the First Lady and Beyonce have both recently expressed a great deal of mutual admiration for each other.
Last month, Beyonce wrote in an open letter posted to her official website that Mrs. Obama was the ultimate example of a strong African American woman.
And just last week, The First Lady told People Magazine that if she could be anyone else, she would want to be Beyonce. "If I had some gift, I'd be Beyoncé," she said. "I'd be some great singer."
And, as The Associated Press noted, she came pretty close, judging by the audience's reception when she walked into the Revel Resort Friday night:
The first lady got a roaring cheer that matched Beyonce's as she made her way to her seat in a shiny green dress. Some fans took photos while others screamed her name. One yelled, "This is history!
Beyonce's four Atlantic City concerts this weekend are her first since giving birth in January to her first child Blue Ivy Carter, her daughter with her husband, rapper Jay-Z.
The fourth and final sold out concert takes place on the night of Memorial Day (Monday, May 28th).
Be the first to receive breaking news alerts and more stories like this by subscribing to our mailing list.