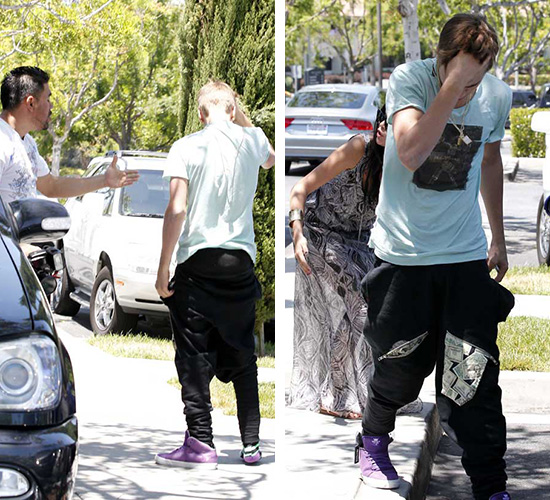 Do NOT f**k with Justin Bieber!
Bieber has been named a suspect in a criminal battery case in Los Angeles after he got into a fight with a photographer who "stepped over the line."
The details aren't clear, but multiple sources are reporting that Bieber and his girlfriend Selena Gomez were leaving a mall in Calabasas after seeing a movie together when they were surrounded by a number of paparazzi.
One paparazzo in particular didn't move as Bieber tried to get into his car, which resulted in a physical altercation between Bieber and the pushy paparazzo … and the aftermath was all captured on film.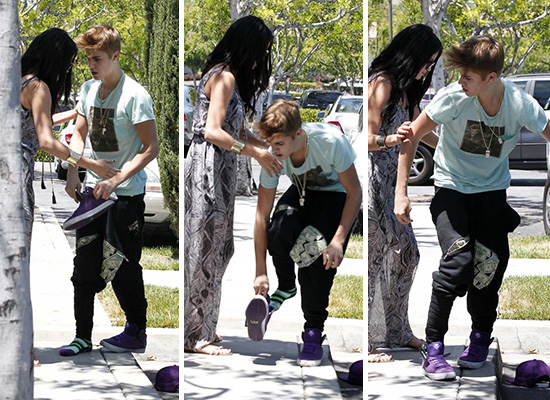 The photos show Bieber losing it for a minute, and appearing to go after the paparazzo. Justin loses his shoe and hat in the melee, and is also seen being consoled by his girlfriend.
After the "scuffle," the photographer called 911, but by the time cops arrived, Justin and Selena had already left the scene.
Right after the couple drove away, Selena Gomez tweeted:
"THANKS SO MUCH to my fans for always protecting me and being there for me. I can't thank you guys enough. I'm sorry I had to rush out. Love you guys."
According to TMZ, an ambulance was also called, and the photographer claimed to have suffered injuries to his upper torso as a result of the alleged fight. He was taken to a nearby hospital where he was examined and released a short time later.
Several witnesses at the scene say after the altercation, a lawyer walked up to the photog and said he could get a lot of money out of the incident and advised the dude to call for an ambulance and file a police report.

Witnesses also say the photog had been blocking Justin's car as the singer was trying to leave. Justin got out of the car and asked the guy to move away but he wouldn't, and a scuffle ensued.
Though Justin Bieber has yet to comment on the incident, people who were at the scene say that the photographer was in the wrong, and he antagonized the Biebz.
A veteran paparazzo who witnessed the mini-brawl first-hand told reporters that the photographer "stepped over the line" and not only blocked Justin from getting into his car, but also "appeared to [purposely] say something" that pissed the 18-year-old off and made him lose his temper.
Another eyewitness told celebrity website Hollywood Life:
"Selena and Justin had just seen Men in Black 3 at The Commons movie theater and one of the paps was blocking Justin's car, making it so he couldn't leave … Justin was getting really upset and words were exchanged and a little scuffle happened.

"Justin realized almost immediately that photos were being taken and stopped and stepped back, plus Selena was reasoning with him and trying to stop things … She helped him get his shoe, which fell off and was trying to resolve the whole situation. She never acted like she was upset, even though it was obvious she was stressed out."
Los Angeles police say detectives want to speak with Justin, Selena and any other witnesses who may have information on what happened.
Multiple calls to Bieber's publicists haven't been returned.
Check out the pics from the incident's aftermath below:
Who do you think is more at fault … Justin Bieber or the paparazzo?
Be the first to receive breaking news alerts and more stories like this by subscribing to our mailing list.