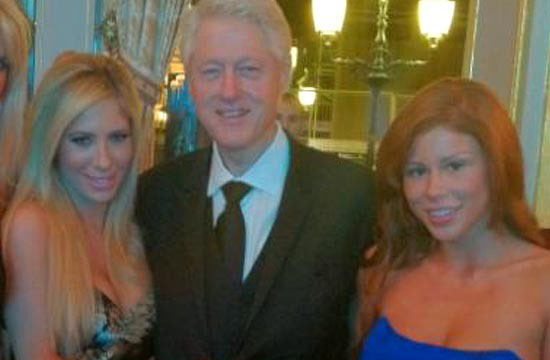 Bill Clinton raised more than a few eyebrows this week when a photo popped up on the Internet of the former president posing in between two famous porn stars — Brooklyn Lee and Tasha Reign — at a fundraising event in Monaco.
The picture, which was taken at the "Nights in Monaco" gala in Monte Carlo, was first posted to TMZ, then spread like wildfire all over the web, because, well … it's Bill Clinton … posing with two porn stars!
But how did the "shocking" photo come about?
The porn actresses called TMZ and explained how they attended the gala — which was a fundraiser for the Clinton Foundation and Prince Albert of Monaco's charitable foundation — as guests of FriendFinder CEO and Penthouse magazine owner Marc Bell.
"We had our own table and everything, dining side by side with Bill, and the prince, and everybody," Lee told TMZ. "He kind of was looking over at us every once in a while, and we're huge psycho fans of Bill–we just think he's really cute."
The women say initially approached Clinton in the hopes of meeting him and having their picture taken with him … but Bill's Secret Service agents brushed them off.
When Bill caught the girls out the corner of his eye, he told his SS agents to call them back, and he took a quick picture and chatted with them briefly.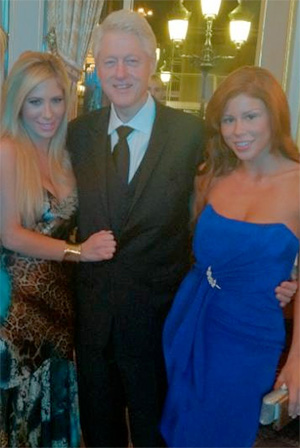 "It was brief–he's really, really sweet. I just told him that I loved him, I thought he was a great president, and he just kind of winked and smiled and gave us hugs," Lee said, describing Clinton as "very sweet and cool about the whole thing."
Brooklyn Lee and Tasha Reign said that they were unsure, but hopeful, that the former president knew who they were, and they felt bad about the negative press Clinton received over the picture.
"I kind of feel like he knows [who we are]," Lee said. "We hope he likes us and we hope he likes to watch our movies." Reign agreed: "I have a feeling that everyone watches adult entertainment."
Meanwhile, Marc Bell — who, as we previously mentioned, invited the girls to the event — says that the media is blowing the whole thing out of proportion, and Bill Clinton had no idea who the women were.
"It's unfortunate that a harmless picture has gotten so much play," Bell said. "It wasn't done for publicity, it wasn't done for malice, it was done because they thought it was really cool to meet the president."
He continued, "He didn't even know who they were. When he met them, he had no idea who they were. They were there not under their stage names. They were there under their real names … The man had no clue."
Of course he didn't. 😉
Be the first to receive breaking news alerts and more stories like this by subscribing to our mailing list.