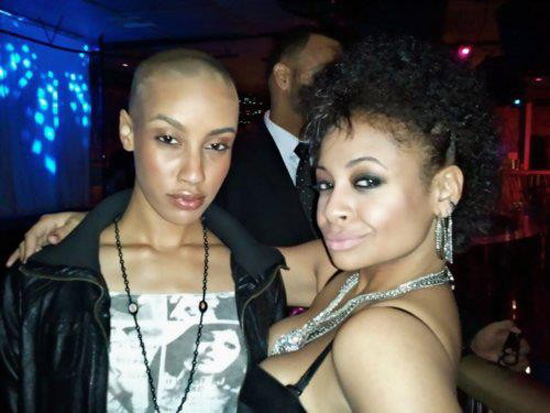 Raven Symone is very private when it comes to her dating life, but the National Enquirer tried to force the former Disney star out of the closet last week, and now she is speaking out about the rumors, saying that her sexual orientation is nobody's business but hers and the people she dates.
Rumors surrounding Raven Symone's sexual orientation were first sparked by "sources" who told the highly credible National Enquirer that the former "Cosby Show" child star was shacking up in her New York City apartment with her lesbian lover, openly gay former "America's Next Top Model" contestant AzMarie Livingston (pictured above).
According to the National Enquirer's report:
"Raven has lost almost 30 Pounds, has done a whole image makeover, and now she is the star of 'Sister Act' on Broadway," said a close source.

"She's at a point now where she doesn't care what her family thinks, and she's in love with AzMarie. She's a lesbian and wants to live that way. … She feels her parents are still trying to treat her like she's a kid, and she's told them she's going to do what she wants."

And that includes Raven maintaining her own love-nest apartment with her 24-year-old girlfriend, say insiders.

"Raven has hidden being gay for a long time now," said the source. "But about a year ago, she was introduced by a friend to AzMarie, who is absolutely gorgeous.

"The two began see­ing each other, and a few months ago, Raven finally got the nerve to ask her to move into her lavish Manhattan condo. When her family found out, they blew their stack and it's created a gay scandal for Raven.

"She told her parents she loves them, but her home – especially her bedroom – is nobody's business, and she was not going to back down, so they needed to accept it, period."
After the story hit the Internet, Raven initially ignored it, but after a few days, she finally addressed the rumors — without either confirming or denying them — via Twitter:
I'm living my PERSONAL life the way I'm happiest. I'm not one, in my 25 year career to disclose who I'm dating. and I shall not start now.

My sexual orientation is mine, and the person I'm datings to know. I'm not one for a public display of my life.

However that is my right as a HUMAN BEing whether straight or gay. To tell or not to tell. As long as I'm not harming anyone.

I am a light being made from love. And my career is the only thing I would like to put on display, not my personal life. Kisses!
Your thoughts?
Be the first to receive breaking news alerts and more stories like this by subscribing to our mailing list.