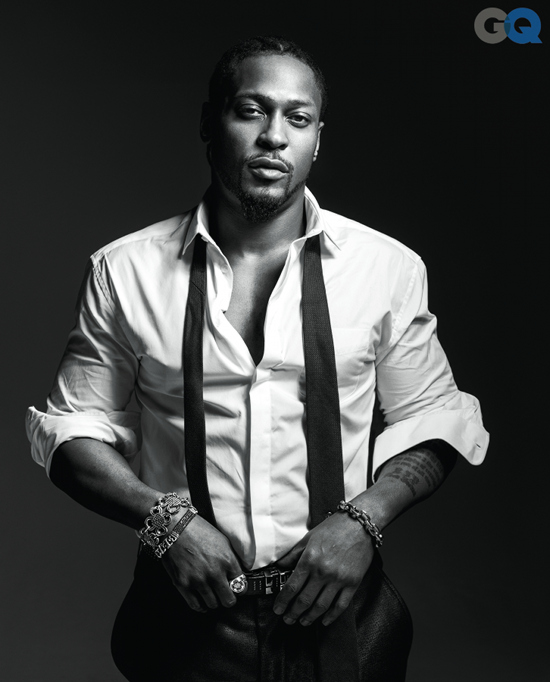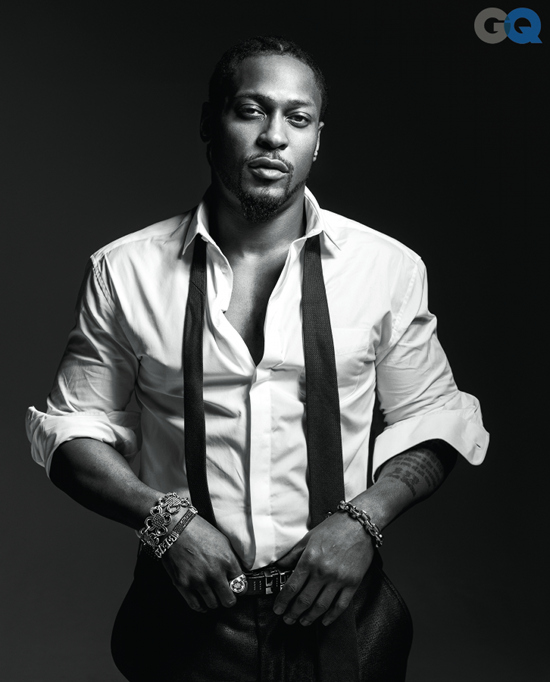 It's been a minute since D'Angelo has been on the scene … but it looks like the "Untitled (How Does It Feel)" singer is on the verge of a comeback!
In his first interview (and magazine shoot) in 12 years, D'Angelo talks to the June 2012 issue of GQ Magazine about what he's been up to in his time off from music, why he left the industry without warning over 10 years ago, his run-ins with the law, his struggles with substance abuse and more.
The interview also features quotes from the R&B crooner's close friends, including Chris Rock, Questlove, and his baby mama, R&B singer Angie Stone.
Check out a few highlights from the issue below:
D'Angelo on the evil forces in music, and how much power music has:

"There's forces that are going on that I don't think a lot of motherf**kers that make music today are aware of. It's deep. I've felt it. I've felt other forces puling at me." He stubs out his cigarette and leans toward me, taking my hand. "This is a very powerful medium that we are involved in," he says gravely. "I learned at an early age that what we were doing in the choir was just as important as the preacher. It was a ministry in itself. We could stir the pot, you know? The stage is our pulpit, and you can use all of the energy and that music and the lights and the colors and the sound. But you know, you've got to be careful."
D'Angelo on the response to the 'Untitled' video:

"One time I got mad when a female threw money at me onstage, and that made me feel like f**ked up, and I threw the money back at her. I was like, 'I'm not a stripper.'"
Paul Hunter (Director of 'Untitled') on the video being misunderstood:

"Most people think the 'Untitled' video was about sex, but my direction was completely opposite of that. It was about his grandmother's cooking. Think of your grandmother's greens, how it smelled in the kitchen. What did the yams and the fried chicken taste like? That's what I want you to express." The video may have looked like foreplay, but it was actually about family, Hunter insists-about intimacy.

Later when I tell D'Angelo this, he says, "It's so true: We talked about the Holy Ghost and the church before that take. The veil is the nudity and the sexuality. But what they're really getting is the spirit."
D'Angelo on battling substance abuse problems during his hiatus:

"I didn't really think I had a problem like that," he says, taking a hit off a Newport. "I felt like, you know, all I got to do is clean up and I'll be fine. Just get in the studio and I'll be fucking fine."
D'Angelo on getting arrested for soliciting sex from an undercover female officer in 2006:

"It was just me making a stupid decision, a wrong turn, on the wrong night. I'm not the role-model motherfucker. Look at all the shit that I've been in."
D'Angelo on Madonna:

When Madonna turned 39, she asked him to sing "Happy Birthday" at her party. One press report had her sitting on his lap and French-kissing him. In fact, two sources say that ultimately D rebuffed her advances at another gathering not long after. At that event, the sources say, Madonna walked over and told a woman sitting next to D, "I think you're in my seat." The woman got up. Madonna sat down and told him, "I'd like to know what you're thinking." To which D replied, "I'm thinking you're rude."
Chris Rock on black celebrities and fame:

"Black stardom is rough, dude," Chris Rock tells me when I reach him to talk about D. "I always say Tom Hanks is an amazing actor and Denzel Washington is a god to his people. If you're a black ballerina, you represent the race, and you have responsibilities that go beyond your art. How dare you just be excellent?"
Angie Stone — the mother of one of D'Angel's kids — recalls an incident where she was pushed to the side at an awards show so he could walk the red carpet with Vivica Fox, instead of her:

Stone remembers an event in Manhatten in September 1996 that was billed as Giorgio Armani's tribute to D'Angelo. Stone-thirteen years older than D-was three months pregnant with their son. They headed to the event together in a limo, but as they neared the venue where D was going to perform, it suddenly pulled over. "He was asked to get into another car, where he would be escorted by Vivica Fox," Stone says, her voice breaking slightly. The lissome Fox had just appeared with Will Smith in the blockbuster Independence Day. "It was a Hollywood moment. They wanted a trophy girl. I had to walk in behind them to flashing cameras. It started the wheels turning of what was yet to come."
Questlove — D'Angelo's former bandleader — on his plans to escape stardom:

"On the last day of the eight-month [Voodoo] tour, Questlove says D'Angelo told him, 'Yo man, I cannot wait until this fucking tour is over. I'm going to go in the woods, drink some hooch, grow a beard, and get fat.' Questlove thought he was joking. 'I was like, 'You're a funny guy.' And then it started to happen. That's how much he wanted to distance himself."
Questlove on calling D'Angelo after Amy Winehouse's death:

"D's the first person I called,' Questlove recalls. And I was just honest, like, 'Look, man, I'm sorry. I know you're thinking I'm avoiding you like the plague.' I just said plain and simple, 'Man, there was a period in which it seemed like you were hell-bent on following the footsteps of our idols, and the one thing you have yet to follow them in was death.'"
Questlove on black artists who are self-sabotaging:

Questlove has a theory about what happens to black genius—what he calls a "crazy psychological kind of stoppage that prevents them from following through. A sort of self-saboteur disorder."
Check out the photoshoot (via GQ) below:
Earlier this week, Jay-Z announced that D'Angelo would be performing at the Budweiser Made in America Festival in Philadelphia this September.
D'Angelo — who re-emerged earlier this year in Stockholm and released a brand new song — is also scheduled to hit the stage this July during the annual Essence Music Festival in New Orleans.
Click here for more from his GQ interview!
Did you miss D'Angelo … and do you think he can bring good R&B music back?
Be the first to receive breaking news alerts and more stories like this by subscribing to our mailing list.